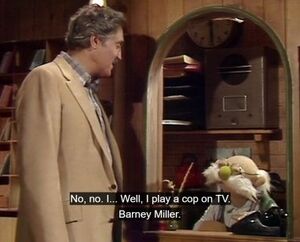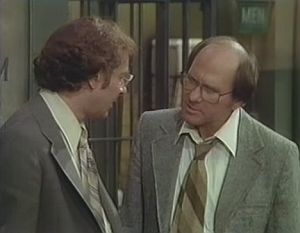 Barney Miller was a long-running sitcom set in a New York City police station, focusing on the detective squad and their patient captain, Barney Miller (played by Hal Linden). The 12th Precinct played host to a parade of eccentric criminals, victims, officers, and average citizenry driven to the brink by life's petty frustrations. The series aired on ABC from 1975 through 1982 and spawned a spin-off, Fish (starring Abe Vigoda as broken-down Detective Fish). The character of Barney Miller was named number 58 in Bravo's 100 Greatest TV Characters.
References
When Hal Linden guest starred on The Muppet Show episode 517, Pops asks him if he's a cop. Linden clarifies that he merely plays a cop on TV, Barney Miller. Pops says that as soon as he said the name, it hit him like a ton of bricks. "What name?" "Barney Miller!" (cue ton of bricks landing on Pops).
Muppet Mentions
In the episode "Vandal" (1979), the detectives arrest Mr. Adelson, a man who attacked a TV programming executive. The man insists that TV will always be trash. Detective Dietrich quotes Newton Minnow, famous for referring to television as a "vast wasteland." Adelson's confused response: "He one of those little puppets on Sesame Street?" Dietrich, deadpan, replies that yeah, he's the green one.
Connections
In addition to Hal Linden, other Barney Miller actors and crew worked on Muppet/Henson productions.
External links
Community content is available under
CC-BY-SA
unless otherwise noted.