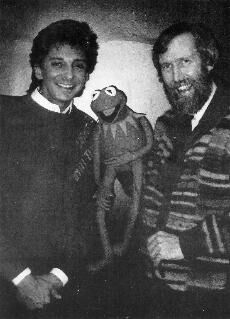 Barry Manilow (b. 1943) is a singer and songwriter who gained fame through recordings of his own songs. Some of his biggest hits include "Mandy" and "Copacabana." In television, Manilow has won two Emmys, one in 1977 for Outstanding Special (The Barry Manilow Special, his first) and one in 2006 for Outstanding Performance in a Variety/Music Program (Manilow: Music and Passion).
On the premiere broadcast of Joan Rivers' BBC talk show Can We Talk? (October 3, 1986), Manilow was a featured guest, along with Jim Henson and Kermit the Frog. They briefly shared the stage near the end, and backstage and publicity photos showed Manilow and Henson together.
Previously, in 1983, Floyd Pepper reviewed Manilow's most recent album in the second issue of Muppet Magazine. In 2009, he was one of many musical guests on A Capitol Fourth, as were various Sesame Street Muppets, but they did not share the stage.
Songs performed by the the Muppets
References
The song "Feelings" has at times been assumed to be a Barry Manilow song (sometimes confused with Manilow's 1975 song "Tryin' to Get the Feeling"). The 1977 album Let Your Feelings Show! played off of that, as "Marry Banilow" (voiced by Marilyn Sokol) sings "Feelings."
External links
Community content is available under
CC-BY-SA
unless otherwise noted.