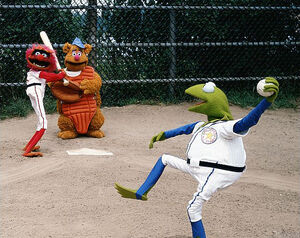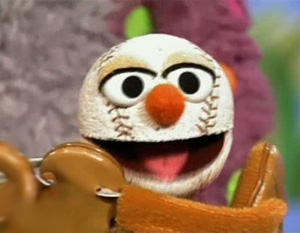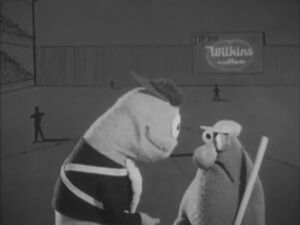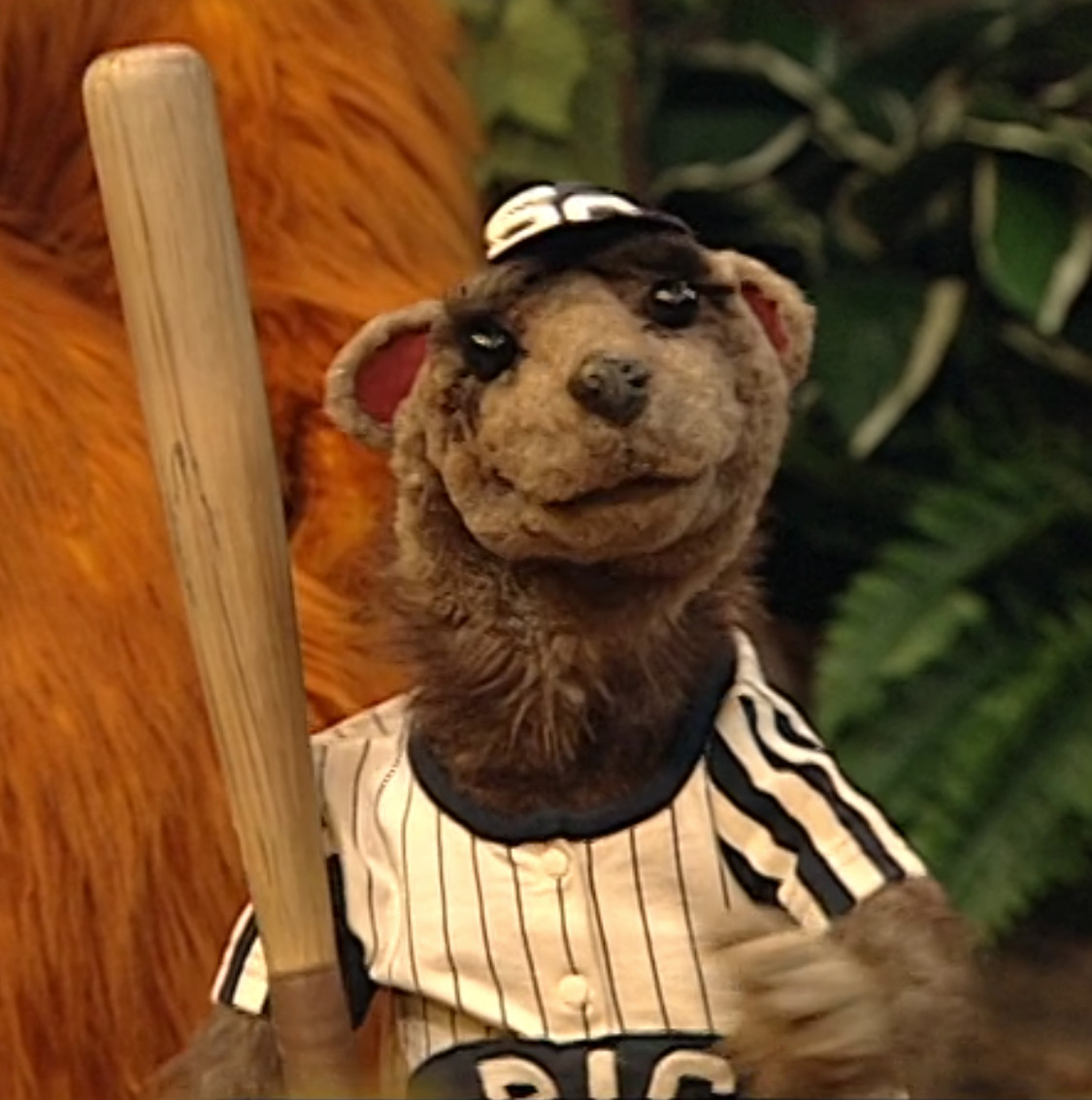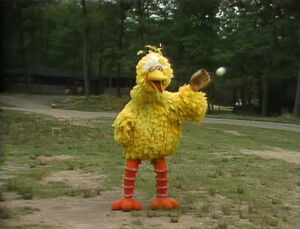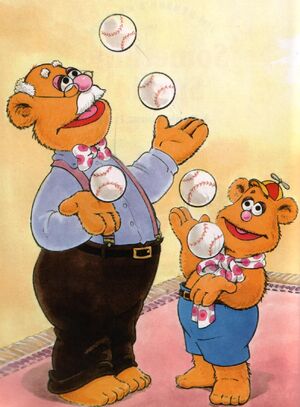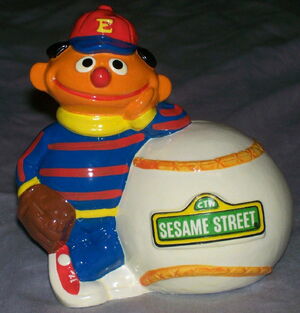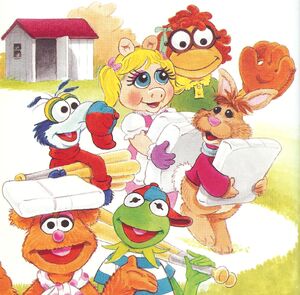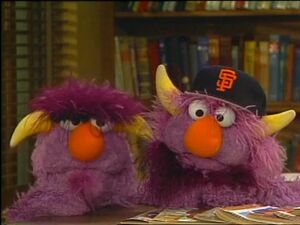 Baseball is a sport played between two teams of nine players each, popularly known as America's national pasttime. Major League Baseball is the highest level of play in North America, operating since 1901. Composed of 30 teams, each team plays in its own unique park. The Chicago Cubs play at Wrigley Field, famous for its ivy covered outfield walls, and the New York Yankees play at Yankee Stadium, of which the original was nicknamed "The House That Ruth Built" after legendary player Babe Ruth.
Baseball has had a great impact in America's popular culture, including Ernest Thayer's 1888 poem "Casey at the Bat", and Abbott and Costello's famous "Who's on First" routine.
Characters
References
Sesame Street
Tom and a young boy have identical baseball gloves, so Tom writes his name on his glove's label in episode 300.
Luis sings the Classification Song in Spanish as he regroups baseball gloves and a baseball bat in episode 311.
Oscar can't make up his mind whether to use his baseball to practice his pitching or to use his pencil to write his uncle a letter. (First: Episode 0324)
Big Bird is mad at Lillian in episode 337 because she keeps saying no to anything he wants to do, including playing baseball.
Oscar disagrees about Luis' decisions as an umpire in a baseball game, but he's happy when the team loses in episode 685.
"Sluggo the Great" (David) puts on his baseball gear, but isn't sure which body parts to put them on in. (First: Episode 0672)
Big Bird doesn't want to play baseball at Camp Echo Rock during summer camp because he doesn't know how to play. Still, they have him play in the outfield, where he hits a home run in Episode 1707.
In the Sesame Street opera parody "The Heartstrongs", Barnaby (David) comes downstairs to change shoelaces in order to play baseball. (First: Episode 2163)
A Muppet girl approaches a sad Herry and asks him what's wrong. He laments about being left out of the baseball game, and she offers to cheer him up by taking him to the zoo in Episode 2105.
Gordon wants to take Elmo to a baseball game in Episode 4042, but before they go, Elmo needs a fish-sitter to fish-sit Dorothy while they are gone.
Elmo wants to play with the Two Headed Monster, but they can't decide on whether to play baseball or hockey until Aaron and Nick Carter pass by and then everyone wants to sing in Episode 4056.
Baby Bear asks Telly to play baseball, and he convinces Baby Bear to let Freddy play baseball with them. The doll's baseball skills prove to be sorely lacking in Episode 4121.
In Episode 4132, Big Bird and Mr. Snuffleupagus want to play baseball with Marco, but he is too young.
In Episode 4174, Kaitlyn barters with Radar to obtain a baseball glove from Big Bird.
Another sketch features Ernie answering the telephone. Bert overhears the conversation, which involves a baseball game, a rainy day, and a gorilla stealing a baloney sandwich. When Bert asks who just called, Ernie says it was a wrong number. (First: Episode 0305) This was adapted into the book Ernie's Telephone Call.
In the song, "At the Bus Stop Sign", a boy named Lefty claims he needs to catch the number 9 bus to get to his baseball game.
Animated segments featuring baseball include:
Sesame Street short films featuring baseball include:
Many Sesame books have featured baseball as either a passing reference, or as a focal point in its story:
Applause has made PVC figures of Ernie and Bert playing baseball.
Playskool made a wooden puzzle with the Sesame Street gang playing baseball.
In Episode 2513, the cast sings about Springtime. Gordon says that during Spring, he partakes in baseball games.
The Muppet Show Characters
The 1993 Muppet Trading Cards set features cards showing Miss Piggy playing baseball ("Diamonds Are a Pig's Best Friend") and Animal and Fozzie playing baseball ("Animal Strikes Out!").
In an interview on Today promoting The Muppets Take Manhattan, Kermit mentions during his school days, he enjoyed playing baseball because he could catch flies.
Bear in the Big Blue House
Muppet Babies
International Productions
Pancho and the kids prepare to play baseball. They count off 9 players, 9 hats and 9 balls. Pancho then counts his 9 pitches, one of which hits him square on the head in episode 904 of Plaza Sésamo.
In another episode of Plaza Sésamo, Pancho goes to great lengths to get a soccer ball that he plans to play with with Lola and Daniela out from a tree. Once he does so, the girls tell him they are now playing baseball and need him to get their ball unstuck from a tree too.
Other References
On Dinosaurs, Sinclair City builds a new baseball stadium for the home of the newly formed team "The Central Pangaean Cavemen."
Gallery
Baseball Players