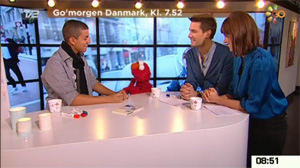 Basim (b. 1992), full name Anis Basim Moujahid, is originally from Morocco and became famous in Denmark after he reached the quarterfinal in the Danish X Factor in 2008.
On October 19, 2009, Basim was a guest on Go'morgen Danmark were he was interviewed by Elmo.
After X Factor he released his first album called "Alt det jeg ville have sagt" and on October 19, 2009, he released his second album "Befri dig selv"
In 2014, he represented Denmark on home ground at the Eurovision Song Contest in Copenhagen with the song "Cliché Love Song" and finished in 9th place.