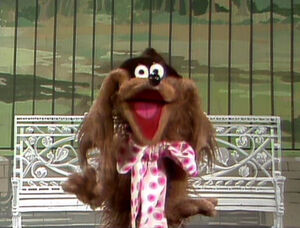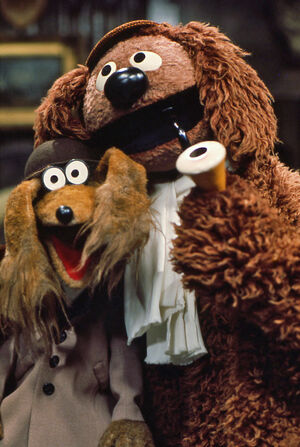 Baskerville the Hound is a small, shaggy, brown dog with glasses and a pointed snout, who was originally created in 1962 as a foil for Rowlf in a series of Purina Dog Chow commercials. His name comes from the Sherlock Holmes novel The Hound of the Baskervilles, and his design was originally considered for Rowlf.[1]
Like Rowlf, Baskerville made a single appearance in the first season of Sesame Street, but most of his further appearances were on The Muppet Show and related films, series, and specials.
Baskerville's first role on The Muppet Show was in episode 103, where he played Dr. Watson to Rowlf's Sherlock Holmes in "Sherlock Holmes and the Case of the Disappearing Clues." That first appearance would prove to be one of Baskerville's most prominent on the series, but as the sketch was moved to a UK Spot when it was decided that the episode was short on songs, it wasn't seen by American audiences until the release of The Muppet Show: Season One DVDs.[2] In fact, most of Baskerville's featured appearances in the first season were also UK Spots, namely two musical numbers where he featured prominently alongside Rowlf, the duet "Dog Eat Dog" and "May You Always.
Although Baskerville was consequently relegated to a background player on The Muppet Show, mostly appearing in group numbers or alongside the other dogs, he was featured several times in the second season: in episode 208, notable as the only episode in which he is mentioned by name, Baskerville auditions for Kermit as a new comedian for the show before being pulled offstage by a jealous Fozzie Bear; in episode 214, he served as the patient on "Veterinarian's Hospital"; and although it wasn't a major appearance, in episode 221, he sat at the feet of J. P. Grosse during the "Long, Long Ago" medley, in a spot one would have considered reserved for The Muppet Theatre owner's favorite pet, Muppy.
Performers
Filmography
Book Appearances
See also
Sources