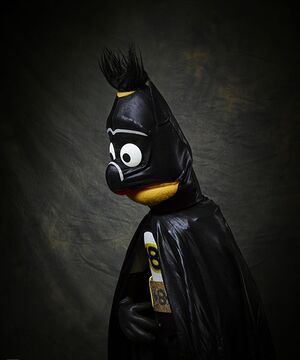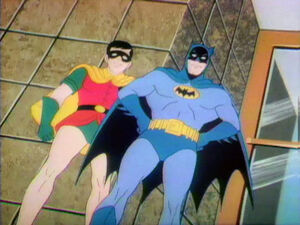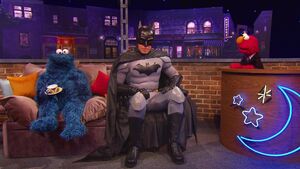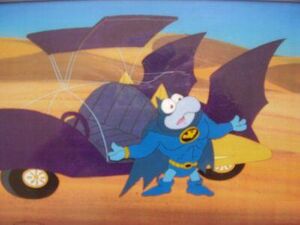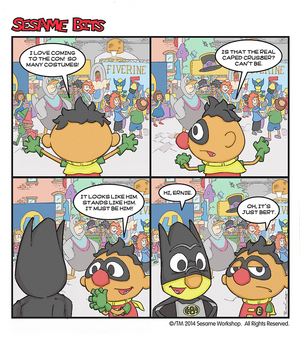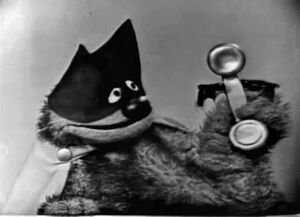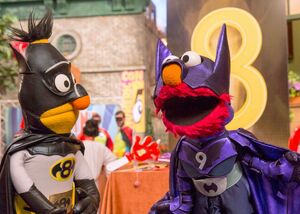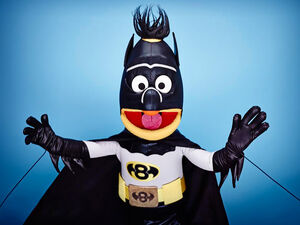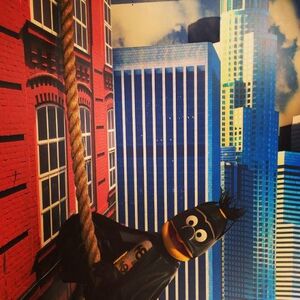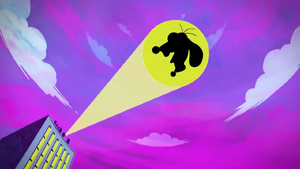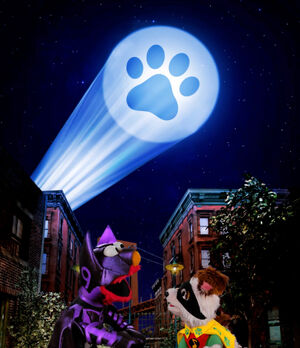 Batman is a DC Comics superhero who first appeared in Detective Comics #27 in May 1939. His true identity is Bruce Wayne, billionaire industrialist, playboy, and philanthropist. Witnessing the murder of his parents as a child led him to train himself to the peak of physical and intellectual perfection, don a costume, and fight crime. Unlike many other superheroes, he does not possess superhuman powers or abilities; he makes use of intellect, detective skills, technology, and physical prowess in his war on crime.
Appearances
Batman's association with Sesame Street predates the show's premiere. In DC Comics ads, alongside Superman, Batman urged young viewers to watch Sesame Street, especially "The Man from Alphabet" segments (which were dropped before the show's national debut).
Batman appeared in several Sesame Street segments in animated form (voiced by Olan Soule). In an Ernie and Bert sketch from the first Sesame Street test pilot, Ernie wants to watch Batman on TV, but Bert wants to watch something else. Batman interrupts them, suggesting they take turns in selecting a television program.
Batman was joined by Robin (Casey Kasem) in several animated segments (produced by Filmation) which debuted in the end of the first season. Gerald S. Lesser explained the selection of the dynamic duo when he said "some celebrities such as Batman and Robin are enlisted because of their unassailable authority with four-year olds."[1]
Batman and Robin catch the Penguin's gang who has dirty windows, teaching the opposite pairings of clean and dirty. (First: Episode 0099)[2]
In 2005, Jim Henson's Creature Shop supplied additional digital visual effects for the motion picture Batman Begins.
Batman, as portrayed by Victor Joel Ortiz (uncredited), appeared as a special guest in episode 104 of The Not-Too-Late Show with Elmo. The house band scores his entrance with a pastiche of the theme song of the 1966 Batman series. After sitting down for a short interview and playing "Beach Ball Ballyhoo" with Elmo, Batman makes his exit when the Bat-Signal flashes on the curtains.
Muppet Mentions
In Detective Comics #834 (2007) by Paul Dini, the Joker leaves lyrics to "The Muppet Show Theme" as a possible clue for Batman and Zatanna.
After the @elmo Twitter account posted a photo of Elmo wearing his "Dark Nine" outfit from Episode 4504 on April 5, 2022, the official DC Comics account quote-retweeted it with a Photoshopped image of Elmo as the Dark Nine interrogating Rocco wearing Joker make-up. The image references both the recent release of Matt Reeves's The Batman as well as the internet-fueled Elmo/Rocco feud that went viral in January of 2022. The @sesamestreet handle liked the post; a rarity for the account.
References
The February 18, 1966 episode of The Jimmy Dean Show features Rowlf engaged in an extended spoof of the 1966 Batman series. In the sketch, Rowlf portrays "Batdog", with Jimmy Dean as his sidekick Dobbin (who utters various types of Holy exclamations). He has a phone conversation with an unseen commissioner. Later in the sketch, as Batdog fights with the nefarious Midget, battle words appear onscreen, as on the Batman series, such as Pow and Zonk, Oy! and Zlerp! In an earlier episode, Rowlf claims to want a brother just like him - a dog who can talk, play gin rummy and watches Batman.
After failing to convince Jimmy Dean to bring along a certain canine companion with him on his summer tour in the April 1, 1966 broadcast of The Jimmy Dean Show, Rowlf wonders if Batman and Robin could use a dog.
A Sesame Street segment featuring kids painting on a glass surface in front of a camera (First: Episode 0008) includes a boy who paints a bat-like shape which the kids in voiceover identify as Batman. (YouTube)
In Episode 0738 of Sesame Street, Mr. Hooper encourages the Count to simply count numbers without having actual things to count. The Count will not hear of this, comparing such a thing to peanut butter and jelly sandwiches without the jelly. He goes on with more comparisons (counting them as he goes), including "Batman and Robin without Robin."
Episode 3210 of Sesame Street features Telly posing as "Yes Man." His appearances are scored by a spin on the theme song of the 1966 Batman series.
Episode 3767 of Sesame Street features Telly reading his story about prehistoric times. One chapter features his character meeting up with Scrog (Count von Count) who needs help counting his pet bats, one of which he named Bruce Wayne.
Bert dressed as "The Caped Crus8er" (an 8-based parody of Batman) in a Comic-Con Vine (Vine) and for Sesame Street's "Numeric Con" extended home video. Bert also appeared in his Caped Crus8er outfit along with Ernie wearing a Robin-inspired costume in a Sesame Bits comic produced to promote the "Elmo's Super Numbers" home video.
Fozzie Bear was asked who would win in a fight between Superman and Batman during an @midnight Q&A on Facebook live in 2016. He wonders why the two would be fighting at all and proposes taking them out to brunch for the purposes of resolving their differences. "Batman, you'll love me, I'm a real joker."
The Muppet Babies episode "Puppy for a Day" features the characters' super hero and super villain alter egos beaming out a signal parodying the famous "bat signal," shaped in Rizzo's silhouette ― a "rat signal," of sorts.
Elmo again wore his "Dark Nine" costume in the "Better with You" video, accompanied by Tango as Robin. A riff on the Bat signal fills the sky with the footprint of a dog paw.
Connections
The 1982 book-and-tape set Batman and Robin the Teen Wonder: The Case of the Laughing Sphinx
Other cast/crew in Muppet/Henson productions also appeared in Batman-related works.
Sources
See also