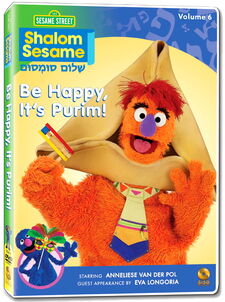 Picture
Segment
Description




SCENE 1
Anneliese welcomes the viewers and then suddenly smell something delicious in the air. She follows the smell to Shoshana's local coffee house where Abigail and Shoshana are making hamentashen, a filled-pocket pastry, for Purim. Shoshana tells Anneliese that they are going to hold a talent show for this year's Purim spiel and the prize is a king-size hamantash with any filling of the winner's choice. Anneliese sees Moishe Oofnik walk by and tells him about the talent show, but Moishe says he will be busy: not going to the Purim spiel. Shoshana asks Anneliese to be the host of the talent show and Anneliese agrees, saying she would love to do it. After Anneliese and Abigail leave to prepare for the evening, Shoshana goes back to working on the hamentashen.

Film
A film of hamentashen being baked at a bakery.

Film
A boy spends time with his friend Will and his mother, who is Jewish. He learns about their culture and about Purim.

Celebrity
Eva Longoria tells a joke about Purim.

Cartoon
Words that start with Tzadi.

Film
Eli dresses like an elephant for Purim and explains how he celebrates the holiday.

Muppets
The Number of the Day: 3
Papa Bear, Mama Bear, and Baby Bear show up after learning that the number of the day is 3. (The names of the numbers are dubbed in Hebrew.)

Film
Three Wegman dogs are arranged in different ways.

SCENE 2
Kobi finds a sad Abigail sitting on a bench and learns that Abigail is having a hard time finding a costume to wear tonight. To help give her ideas, Kobi tells Abigail the story about how Purim started.

Cartoon
The cast stars in "Book of Esther", the story of how the holiday, Purim, got started.

SCENE 2 cont'd
After hearing the story, Abigail gets a good idea on what costume to wear and thanks Kobi for his help.

Muppets / Celebrity
Natalie Portman and Elmo perform "The Princess and The Elephant".

Animation
The Hebrew Calendar - the month of Adar

Film
Video montage of kids in costume for Purim.

Celebrity / Muppets
Jack Black wears various disguises to fool Elmo, but he sees through them each time, until he meets a chicken with Jack's facial hair.

Song
"Dressed Up" (remake)

Film
Video montage of a parade on Purim.




SCENE 3
In the evening, the residents of Rechov Sumsum (including Mahboub, Sivan, Grover, Gladys the Cow, family members from Les Matazarables, Kobi, Shoshana, Lemlem, and Boris) has gathered for the talent show. For the first act, Anneliese introduces Abigail, who is dressed as Queen Esther from the story, ''The Book of Esther''. Abigail retells the story and every time she mentions Haman's name, the residents use their noisemakers to show how angry they are at Haman. In the second act, Brosh does a tap dance while dressed as a hamantash. At the end, he trips and falls down, but he claims that he meant to do that.




SCENE 3 cont'd
In the final act, a traditional Purim song was sung by a masked singer. After the song ended, the masked singer took off his mask to reveal it was Moishe Oofnik. When Moishe Oofnik is crowned the winner, Moishe wants the filling of his hamantash to be stinky cheese and anchovies. Moishe explains that eating it would make his bad breath would keep people away from him. Anneliese ends the talent show as the residents celebrate by dancing together in the street.

Film
Kids talk about what they do on Purim.

Cartoon
Words that start with Pey.

Muppets / Film
Postcard from Grover
Grover talks about Eliat and the activities that you can do there.

Closing
The sponsors are announced.
DVD Bonus
Community content is available under
CC-BY-SA
unless otherwise noted.