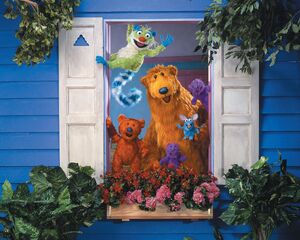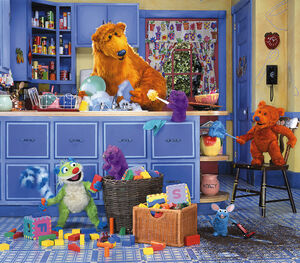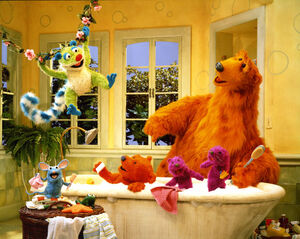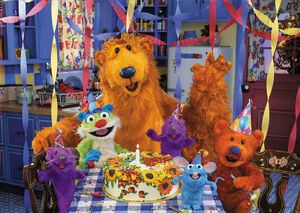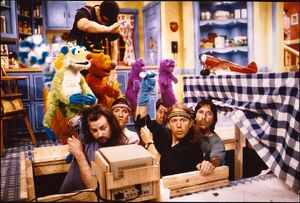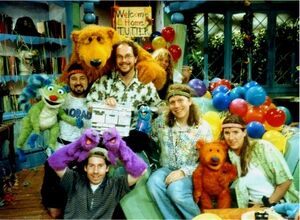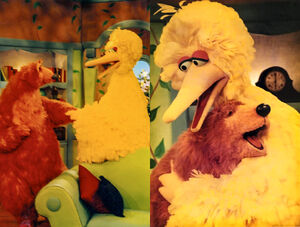 Bear in the Big Blue House is a TV series that ran for four seasons, from 1997 to 2003. The show was developed by Mitchell Kriegman with The Jim Henson Company for Disney Channel. Eight additional fourth season episodes were broadcast in April 2006, after The Walt Disney Company's acquisition of the program. Reruns continued to air until May 6, 2007.[2] In 2005, during its hiatus, the series was followed by a programming block titled Breakfast with Bear, featuring Bear visiting the homes of real-life children.
Show Structure and Content
Bear in the Big Blue House is aimed at teaching lessons to preschool and early school-age children. In each episode, Bear explores learning concepts such as feelings, the alphabet, nature, science and more with the kids of the Big Blue House and/or out in Woodland Valley. Throughout the majority of its run, the program was seen daily on Disney Channel. Currently, it is not broadcast in the United States, but can be seen in some other markets.
At the beginning of each episode, Bear welcomes viewers to his house and tells them that he thinks they smell good. After talking with one or more of the characters, he introduces the show theme, or "Word of the Day" and sometimes sings a song about it. This segment, in the first three seasons, is often followed by one in which real kids discuss the topic of the day. Afterwards, Bear usually explores the house or valley, talking with the kids and aiding/assisting them as necessary. He will also sometimes stop to find Shadow, who shares a story related to the theme of the day. At the end of each program, Bear heads to the attic of the house and talks with his friend Luna, the moon, about the day's events. The two sing "The Goodbye Song" and notable scenes from the episode are shown in brief. Bear then shares a final thought for the day.
Sometimes, at the opening of the program, Bear will have a talk with Ray. In the fourth season of the program, Woodland Valley, the community at large, is featured much more heavily. Tutter the mouse is shown attending school, many new characters are introduced and the Good Morning song and real-kids segments are no longer featured.
Episode list
see also: unaired pilot
Cast
Additional Performers
Guest Voices
Crew
Creator: Mitchell Kriegman
Producers: Erica Levin, Andy Yerkes, Mitchell Kriegman, Alex Rockwell, Brian Henson, P. Kevin Strader, Claudia Silver, Deborah Mayer, James Sabatini
Directors: Mitchell Kriegman, Dean Gordon, Hugh Martin, Richard Fernandes, Tom Guadarrama, Lisa Simon, Jim Martin, Chuck Vinson, Noel MacNeal
Associate Directors: Phil Alcabes, Andrea Giles-Rich, Dean Gordon
Editors: Tony Breuer, Rob Hall, Marybeth Benivegna
Stage Manager: Adam Matalon
Muppet Designer: Paul Andrejco
Jim Henson's Muppet Workshop: Lara MacLean, Anney McKilligan, Andrea Detwiler, Vanessa Gifford, James Wojtal (uncredited)
Graphics Designer: Chris Renaud
Production Designer: Cabot McMullen
Art Director: David B. Ellis
Lighting Designer: Randy Nordstrom
Animator: Jim Spieler
Score: Peter Lurye, Julian Harris, Brian Woodbury
Songs: Peter Lurye, Bill Obrecht, Brian Woodbury, McPaul Smith, Julian Harris, Bobby Lopez, Jeff Marx, Tyler Bunch, Tony Fennel, Michael Webster, David Yazbek, Steve Charney, Jon Ludwig, Mitchell Kriegman, Tara Mooney, Robert Cole, Deena Cole, Dave Kinnoin, Billy Cobin, Andrew Wyatt Blakemore
See also
Sources
External links
Community content is available under
CC-BY-SA
unless otherwise noted.