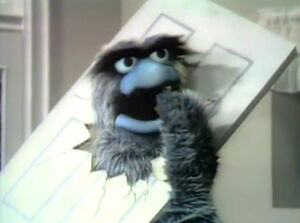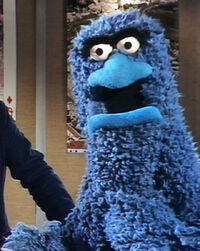 Beautiful Day Monster got his name from his first appearance, on The Ed Sullivan Show, where he tried to ruin a girl's beautiful day. He made several appearances in the early years of Sesame Street (including one sketch in which he had four eyes)[1] and other Muppet projects. As the top picture shows, wherever he went, destruction and mayhem soon followed.
On The Muppet Show, the Beautiful Day Monster puppet was reconstructed, and his teeth were removed, giving him a less frightening appearance. In one memorable Muppet Show sketch in Episode 108, he asked a travel agent (Paul Williams) about the cost of a trip to Pittsburgh. No matter what the travel agent offers, the monster asks, "You got anything cheaper?" This was his only major appearance in a Muppet Show sketch. He was normally just part of a group of monsters on The Muppet Show.
In an early Sesame Street skit, he was called Fred. He was also a contestant on a 1969 Sesame Street game show where he was named Ralph and had a wife, also a contestant.
Filmography