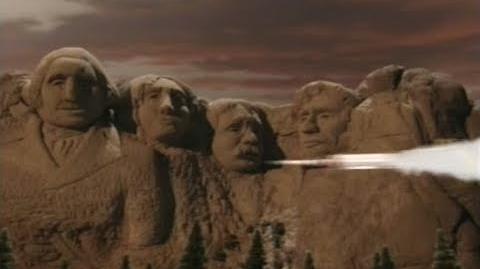 Beavis and Butt-Head is an animated sitcom created by Mike Judge that aired on MTV from 1993 to 1997.
References
Mentions
During the music video, I Don't Think So by Dinosaur Jr, Beavis and Butt-head talk about how this music video relates to Sesame Street. Butt-Head mentions one of the band looks like Grover and Beavis starts to sing, "One of these things is not like the other/One of these things just doesn't, uh, belong...." Then Beavis says, "You know the guy that comes out, and he goes "Twelve chocolate cakes", and then he, like, falls on his butt, and the cakes spill all over the place? That was pretty cool." The duo then later notice that one of the chick puppets looks hot and Beavis said that she is one of the top three Muppets that he would do. Butt-Head then asks who else he would do.
Beavis: Well, Miss Piggy's kinda hot.
Butt-head: That fat pig?
Beavis: Shut up, Butt-head! I like 'em with a little meat on their bones.
During the music video, The Family Ghost by King Diamond, Beavis says that the lead singer looks like the Count. Butt-head agrees and does an imitation of Count as he counts four buttknockers with the trademark laugh.
During the music video, Mockingbirds by Grant Lee Buffalo, Butt-Head notice there are a lot of big Muppet-like birds there and then Beavis talks about Big Bird and how he never poops.
Connections
Community content is available under
CC-BY-SA
unless otherwise noted.