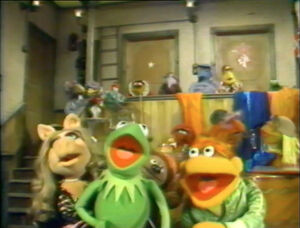 Because We Care is a CBS television special that aired on February 5, 1980. The variety special featured celebrity appearances and musical numbers to raise awareness and support of the citizens of Cambodia.
The Muppets were among those featured in the special. Seen backstage at the Muppet Theatre, the Muppets (including Kermit the Frog, Miss Piggy, Scooter, Gonzo, Rowlf the Dog, Janice, Floyd Pepper, Animal, Winny, Lew Zealand, Louis Kazagger, Sam the Eagle, the Newsman, the Swedish Chef, Robin the Frog and a chicken) performed "Sing."
Other guests included Julie Andrews, Shields and Yarnell, Billy Crystal and Dudley Moore.
Sources
Community content is available under
CC-BY-SA
unless otherwise noted.