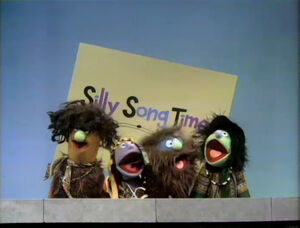 "Before and After" is a Sesame Street song from the first season.
As a part of "Silly Song Time," a group of wild Anything Muppets (lead by a bearded hippie) gather to sing about the opposites. Before they sing, they clear their throats and do a vocal warm up. In between the verses, we see Buddy figuring out how to eat his slice of cake, aided by an unseen voice (Frank Oz). Eventually, he's left to his own devices and causes a mess when he tries to eat his cake before he opens his mouth.
In season two, the insert was completely retaped, while retaining the original singing vocals. The scenes featuring Buddy were replaced with new ones featuring the human cast, Big Bird and Oscar. (First: Episode 0188)
Notes
In the original version, Jim Henson performs the bearded hippie, while Frank Oz performs the Green Anything Muppet. In the remake, Frank Oz performs the lead hippie.
See also
Community content is available under
CC-BY-SA
unless otherwise noted.