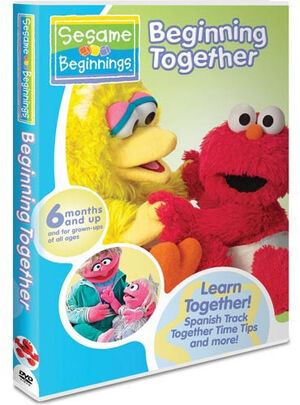 Beginning Together is a 2006 Sesame Street video in the "Sesame Beginnings" series, featuring Baby Big Bird, Baby Elmo, Baby Cookie Monster and Baby Prairie Dawn.
Sesame Workshop press release
This DVD lets parents and their baby meet the Sesame babies for the very first time! Share a "Wiggle and Giggle" with Elmo and his Dad during Elmo's bath time, watch Big Bird and his Aunt discover "Who's that Baby in the Mirror", and so much more. "Beginning Together" is filled with delightful, easy-to-sing songs and games that babies will love, and that you can sing and enjoy during everyday activities. Aside from the "Sesame Beginnings" cast, the DVD also features a special appearance by Brandy and her daughter, Sy'rai.
Other releases