PERFORMER
various
DEBUT
1976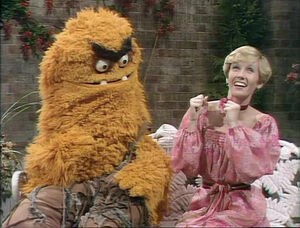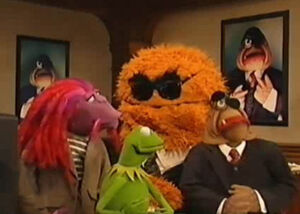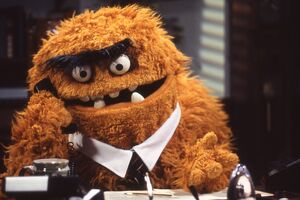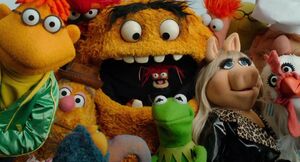 Behemoth (known later as Gene) is an orange monster who appeared occasionally as part of the troupe of Muppet monsters on The Muppet Show, and has also appeared in Muppets Tonight and the 2011 film The Muppets.
He first appeared in episode 114, where he was a full-body character for the only time and had black eyebrows instead of brown ones.
A notable moment for Behemoth was the musical number "Under My Skin", during which he tried to eat Shakey Sanchez while singing the song. He made a comeback in The Muppets, both in a speaking role in the film and appearing in several of the promotional campaign spots and images.
Behemoth has been performed by Richard Hunt (in episode 119), Dave Goelz (in episode 115), Jerry Nelson (in episode 202) and Bill Barretta (The Muppets, and other appearances since 2011).
Name
The word "behemoth" comes from the Bible, in the Book of Job. The term has since come to apply to any large or powerful creature or entity.
The monster's name was first mentioned on screen in Muppets Tonight episode 205, in which he was Ernst Stavros Grouper's assistant, and addressed as "Behemoth."
In the 2005 The Muppet Show: Season One DVD set, the "Muppet Morsels" bonus feature referred to Behemoth in the episodes where he appears.
In 2011, Bill Barretta performed the character in The Muppets, and in some of the trailers and promotional clips. Barretta has renamed the character "Gene", after his brother, animator and illustrator Gene Barretta.[1]
In a November 2011 promotional interstitial for Disney Channel, Kermit the Frog addresses the character, saying, "Roll it, Gene!" The monster responds, "'kay!" According to The Muppets Character Encyclopedia, Gene is his real name while Behemoth is his stage name. The end credits for Muppets Haunted Mansion refer to him as "Clean Gene." The full name was devised by Barretta during an improvised take from The Muppets film, and he decided that the monster would be obsessed with cleanliness.[2]
He is referred to as "Gold Behemoth" by James Bobin in the audio commentary for The Muppets featured on the film's 2012 Blu-ray release, and in press materials for Muppets Haunted Mansion.
Filmography
Book appearances
Sources