Released
2011
Duration
76 minutes
Director
Constance Marks
Written by
Philip Shane
Justin Weinstein
Music
Joel Goodman
Studio
Submarine Deluxe
Constance Marks Productions
Rated
PG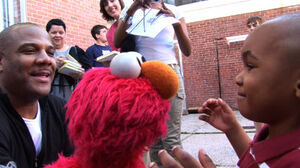 Being Elmo: A Puppeteer's Journey is a documentary film about the life and career of Kevin Clash. The film was directed by Constance Marks and debuted at the Sundance Film Festival on January 23, 2011.
Narrated by Whoopi Goldberg, the documentary features archival footage, including Clash puppeteering as a teenager with his own handmade puppets, as well as interviews with Frank Oz, Rosie O'Donnell, Cheryl Henson, Joan Ganz Cooney, Caroll Spinney, Fran Brill, Martin P. Robinson, and Bill Barretta.
The Park City premiere of the film was sold out weeks before the screening. It was attended by Kevin Clash, Elmo, Carol-Lynn Parente and the filmmakers. It was followed by a Q&A session with Clash, Elmo, and Tau Bennett, an 8-year old puppeteer that Clash is mentoring. Brian Muehl was in attendance as well, surprising Clash after the Q&A, who in return pointed out to those still in the auditorium that this was "the original Elmo."
At the Sundance Awards Ceremony on January 29, 2011, the film received the Special Jury Prize: Documentary "For creating a documentary for ALL ages." The award was presented by Jess Search, of the Channel 4 BRITDOC Foundation.
After the screening, Constance Marks revealed to the remaining audience that a Caroll Spinney documentary was in the works, but disclaimed involvement.
The film aired on PBS on April 5, 2012, with an encore presentation airing on April 9th.[1] (Some PBS stations aired the special on the 9th, with a repeat on the 16th.) It was released on DVD on April 3.
The movie was released on Netflix on February 23 and is also available for rental and purchase on Amazon Instant Video, Zune Marketplace, and iTunes.
Credits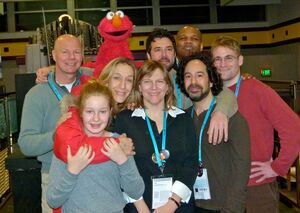 Produced by Constance Marks Productions, Inc.
DVD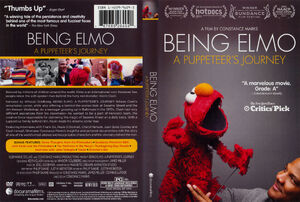 Special Features
Reviews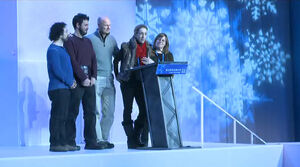 Screenings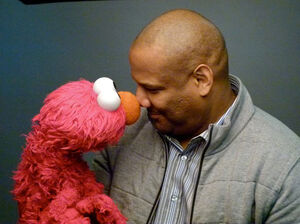 Gallery
See also
Sources
External links
Community content is available under
CC-BY-SA
unless otherwise noted.