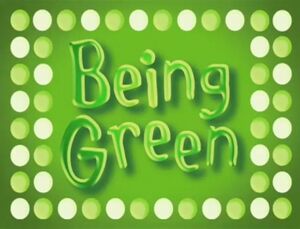 Being Green is a 2009 Sesame Street direct-to-video special about environmentalism.
Mr. Earth (Paul Rudd) hosts Sesame Street's first "Earth-a-Thon." Abby Cadabby, in an attempt to help Elmo be more "green," accidentally turns him the color green. When Abby has a hard time turning back, he begins to sing "It's Not Easy Being Green," until Mr. Earth convinces him that "It Can Be Easy Being Green."
Telly Monster, Rosita and Cookie Monster are volunteers standing by the pledge phones, one recurring caller of whom is Oscar the Grouch. After several hours, Cookie Monster can't bear not having eaten any cookies while taking calls, and eats his phone instead (with results similar to his misfortune while writing to Santa in Christmas Eve on Sesame Street). As the 24-hour Earth-a-Thon comes to a close, Elmo and Abby have learned lots of different ways to "be green."
Segments
Image
Segment
Description




FRAME 1
Elmo and Abby are playing hide-and-seek and Abby's it. After counting, she wonders where on Earth he could be. At the mention of the word "Earth", an announcer introduces the Sesame Street Earth-a-thon, with host Mr. Earth (played by Paul Rudd). Elmo and Abby approach him and ask what's going on and learn they're on TV ("Wow! Elmo's on TV?! Imagine that!"). He further explains that it's a telethon, collecting pledges from people who want to help the Earth. He turns our attention to the operators standing by the phones (literally), until they are told they stand at the phones and answer them. He shows some film footage of what the Earth is (which includes a brief portion of his home movies of his Hawaiian vacation). The two are surprised at how bad people treat the Earth and Elmo even points out a plastic bag stuck on his southern hemisphere. Mr. Earth enlists the kids to help encourage callers and tells them Earth is everyone's home, then points their attention to some films.

Cartoon
"Little Hands"

Song
AudraRox sings "Best Friends".

FRAME 2
Telly receives a call from Oscar, who's only calling to bother Telly.

FRAME 2 cont'd
Mr. Earth asks the question how we keep the Earth green, a concept he must explain to Elmo and Abby as well. He brings up recycling, which Abby hasn't heard of. Elmo shows her the two recycling bins they have on the street.




FRAME 2 cont'd
Rosita's phone goes off and receives a pledge from a boy in South Africa who vows to recycle. Mr. Earth shows the country on his costume.

Film
A boy in South Africa takes glass bottles to be recycled into glass figures.

FRAME 3
Mr. Earth points out the American southwest, where they too have an odd way of recycling.

Song
"Papermaking Song"
(First: Episode 3563)

FRAME 4
Back at "THE EARTH-A-THOOOOON", Elmo wishes he could be greener. Abby thinks she can help, but Mr. Earth thinks things will go "comically awry". Abby sends a spell his way, turning him the color green instead. He runs off proclaiming it, but none of the operators notice.

FRAME 4 cont'd
Cookie Monster then gets a call, but hangs up upon asking if they have cookies for him. Telly and Rosita point out how wrong he is for doing so.

FRAME 4 cont'd
Mr. Earth gives another Earth-friendly tip: re-using things more than once and demonstrates with a paper-towel tube.

FRAME 4 cont'd
Elmo has had fun being the color green and asks to be changed back, but Abby doesn't know how to change him back. Elmo freaks out and runs off.

FRAME 4 cont'd
Mr. Earth shows off a tote-bag made from recycled plastic bags, which callers will receive as a thank-you gift.

Film
In South Africa, a child brings plastic bags back home to be recycled into a backpack.

FRAME 5
Abby's tried all the magic words she knows (including "Ala peanut butter sandwiches") and leaves to consult her mom. Elmo begins to sing a line from "Bein' Green", until Mr. Earth interjects, saying that being green (Earth-wise) can really be an easy thing.

FRAME 5 cont'd
Telly hangs up on Oscar yet again for pestering him. Rosita then gets a call from Cookie Monster, pretending to be a caller with an Earth tip: giving cookies to nice, blue monsters. Rosita catches him, however.

FRAME 5 cont'd
Mr. Earth feels the repercussions of staying in the Earth suit for 23 hours and tells the audience that even planting a tree can help, like they do in Turkey…

Film
A girl and her grandfather plant a tree for her in Turkey.

Animation
Elmo explains how trees grow and what they do once they're fully grown.

FRAME 6
Mr. Earth gives another tip: planting a garden, which will provide food (like the salad he tries to eat). Elmo doesn't think he can make on in the city, but Mr. Earth points out a popular city where they do it…

Film
"In the middle of the city we have a garden...."
(First: Episode 2889)

FRAME 7
Abby re-appears, saying her mom wasn't home. Elmo has warmed up to being the color green and doesn't mind. Abby gets an idea to call her mom, but needs to find a spot with better reception. Mr. Earth approaches Elmo with a fan and asks him to take over while he cools down with a glass of water ("Talk about global warming, huh?")

FRAME 7 cont'd
Over at the phone lines, Cookie can't take much more starvation and eats his telephone, which begins ringing from his tummy.

FRAME 7 cont'd
Elmo asks for more pledges, like picking up trash.

Film
Elmo narrates a film of a Brazilian shoreline polluted with trash. A group of kids called the "Clean Team" pitches in to clean it up.

FRAME 8
Oscar gets a call from Telly, who explains how he and the kids in the previous film are alike – they both take the trash off the ground and keep it. Telly gets a good laugh for finally pulling one over on Oscar.

FRAME 8 cont'd
Mr. Earth enjoys a glass of water in Hooper's Store and explains the importance of conserving water. He then gets stuck in the entrance way.

Animation
All living things need clean water.
(First: Episode 2731)

Song
Toxic Muffin, an all-child band, sings "The Save Game."




FRAME 9
Abby comes back, now knowing how to change him back. He tells Mr. Earth that even though he's red, he'll still vow to stay green. The phone lines having been ringing off the hooks and the operators have been getting dozens of calls from all over the world (including Cookie, who's now using a Victorian phone). As the Earth-a-thon comes to a close, everyone sings "Earth Rocks!" in celebration of their pledges.
Releases
Specifications
Promotion
Green Elmo made several appearances to promote the release of the DVD.
Credits
External links
Community content is available under
CC-BY-SA
unless otherwise noted.