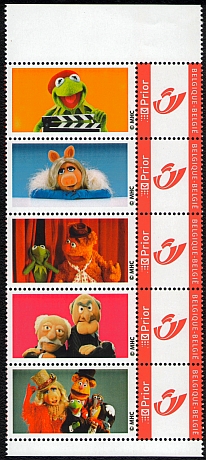 Belgium is a country in Europe. Located between France and the Netherlands, Dutch and French are the primary languages. The country is known for its waffles, chocolate, and Brussels sprouts (the latter a favorite food of several Muppets). Roller skates were invented in Belgium in 1890.
Belgium, like France, is known for its contributions to comics, including Tintin and the Smurfs. However, the best known fictional Belgian is likely the great detective Hercule Poirot (despite being invented by an Englishwoman). In the arts, Vincent van Gogh painted in Belgium (and Vincent van Dough did likewise in the special The Cookie Thief). Another notable Belgian painter was the surrealist René Magritte. Actor Jean-Claude van Damme is Belgian, but it was never determined whether Jean-Dodd van Clamme is.
While there has been no specifically Belgian co-production of Sesame Street to date, several French dubs (including Bonjour Sesame) aired in Belgium. The most significant Belgian collaboration was in the early seasons of Sesamstraat, which included Belgian cast members (Sien Diels) and Piet often drove through Belgian locations in filmed scenes. In early episodes, Pino spoke with a Belgian accent. Dutch dubs (including De Freggels) have also been broadcast in Belgium.
Apart from giving the world action movie stars and little blue people, Belgium was the birthplace of musician Toots Thielemans, who played harmonica on the closing version of '"The Sesame Street Theme" and other early Sesame recordings. Frank Oz spent his early childhood in Belgium. The Belgian music group Zap Mama also visited the street. The French Fraggle Rock co-production featured Belgian actor Vincent Grass as the voice of Gobo.
In 2005, the Belgian post office issued a line of Muppet postage stamps.
Community content is available under
CC-BY-SA
unless otherwise noted.