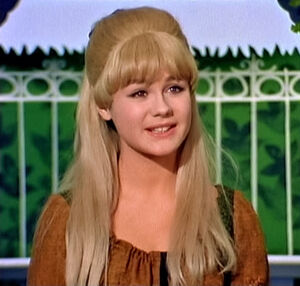 Belinda Montgomery (b. 1950) is a Canadian actress who played Cinderella in Hey Cinderella!
She has had guest spots and recurring roles on numerous television shows over the past 30 years, including Dynasty, CHiPs, The Love Boat, T.J. Hooker, The Hitchhiker, Days of Our Lives, In the Heat of the Night, L.A. Law, JAG and The Ghost Whisperer. Her most notable roles were playing Don Johnson's wife on Miami Vice and the title character's mother on Doogie Howser, M.D..
In 1969, Montgomery appeared in the CBC-TV production of Harold Pinter play The Basement, appearing seemingly nude in a scene with Gerry Parkes. The broadcast stirred controversy in Canada.[1] The production ran as part of Festival on CBC. Former Prime Minister John Diefenbaker asked Justice Minister John Turner whether the play producers would be prosecuted for obscenity.[2]
Sources
↑ "Emotions & Images: An Interview with Actress & Artist Belinda Montgomery", Hill Place, April 5, 2017.
↑ "Dief asks about obscenity in CBC play", Toronto Daily Star, 24 January 1969, C31.
External links
Community content is available under
CC-BY-SA
unless otherwise noted.