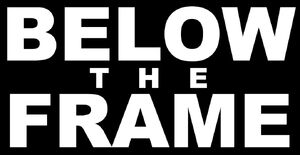 Below the Frame was a Facebook Live program created by Matt Vogel and Stephanie D'Abruzzo. It is now an audio podcast hosted by Vogel with regular appearances by his son Jack Vogel.
Vogel hosts the series while D'Abruzzo produces (and performs) the show's theme and incidental music, as well as special video segments. The series was developed during production of Season 48 of Sesame Street in 2016, with the first episode premiering on November 17 (the format had previously been experimented with by Vogel and the cast on November 4).
The first season featured regular segments, such as "Ask a Puppeteer Something About Not Puppets," "Can You Tell Us How You Got, Got to Sesame Street," and a closing performance by the Sesame Street Muppet Lounge Band. Subsequent shows have a looser, panel-esque format, while still concluding with a musical performance. The episodes occasionally featured brief appearances by the Sesame Street Muppets.
In March 2020, Matt Vogel announced on social media that the show would be transitioning to a podcast format, which launched in August 2020. The focus expands to discuss the Muppet characters owned by the Walt Disney Company in addition to Sesame Street. The podcast features recurring segments, such as "Injury Corner" and "Ask a Puppeteer About Not Puppets," commercial parodies about puppetry techniques, and archival songs and stories by Jerry Nelson.
Facebook Live
Season One
Image
Description

Pilot (November 4, 2016)

Matt Vogel hosts a Facebook Live stream from inside the Muppet Lounge, where the Muppet performers hang out during their lunch break. They showcase various items and photos around the room and tease more live streams.

Video:




Episode One (November 17, 2016, 1:45 pm ET)

The Two-Headed Monster gives a spoiler-filled preview of Once Upon a Sesame Street Christmas, Frank Biondo reveals how he got the job working on Episode 0001 after a strike from the original studio, and his uncensored original thoughts on the show ("Who's going to watch this shit?"), and what it was like to work with Frank Oz, Jim Henson and Richard Hunt ("fuhgeddaboudit"), and Matt and Martin P. Robinson reveal how to operate Butterflies, Bats and Slimey.

Video:

Extra: Pam Arciero Tells Us... (December 1, 2016)

Matt talks with Pam Arciero about how she become a Muppeteer on Sesame Street.

Video:




Episode Two (December 8, 2016 1:45 pm ET)

In a special Christmas edition, Prairie Dawn gives a report from the Macy's Thanksgiving Day Parade (featuring Chris Jackson), Jennifer Barnhart discusses her holiday plans, Peter Linz gives a lesson on puppet lip sync, Gordon Price talks about how he became a part of the show's utility audio team, the Muppeteers answer fan questions and the Sesame Street Muppet Lounge Band closes the show with a Christmas medley.

Video:

Extra: Leslie Carrara-Rudolph Tells Us... (December 15, 2016)

Leslie Carrara-Rudolph explains how she got to Sesame Street as only she can.

Video:

Extra: John Kennedy Tells Us... (January 5, 2017)

John Kennedy gives his Sesame Street origin story.

Video:

Extra: Point of View (January 12, 2017)

A musical showcase of Muppet performer's unique views on the Sesame Street set, written and performed by Stephanie D'Abruzzo.

Video:




Episode Three (January 19, 2017 1:45 pm ET)

Live in the Sesame Workshop offices, Matt with Stephanie D'Abruzzo and Joe Hennes demo the fourth floor video wall, introduce Theresa Fitzgerald, VP of Creative Services, and Louis Henry Mitchell, Creative Director of Character Design, who does a quick drawing of Cookie Monster, they show off the multiple Emmy Awards, and Season 40 Hidden Gems including Teeny Little Super Guy, Matt and head writer Ken Scarborough discuss his bad habits while walking past a Lavender employee copying his head in a copy machine, Betsy Loredo shows off the original lyrics to C is for Cookie, art from The Sesame Street Calendar 1972 and storyboards and cells from Pinball Number Count, Theresa Anderson talks about how she became an associate producer, Matt and Stephanie answer fan questions and in lieu of the Sesame Street Muppet Lounge Band, the Sesame Workshop Furharmonic Sympathy Orchestra closes out the show.

Video:

Extra: Peter Linz Tells Us... (January 26, 2017)

Peter Linz talks about being hired as a Sesame Street performer.

Video:




Episode Four (February 2, 2017 1:45 pm ET)

Caroll and Debi Spinney appear as guests. The video begins with a faux-promo for Hooper's Store. The Spinneys talk about how Debi joined Sesame Street, their trips to China, memories from Hollywood Squares and show some family photos and illustrations by Caroll. Matt plays a compilation of video messages from fans. The Sesame Street Muppet Lounge Band closes the show with a medley of Caroll Spinney songs ("Somebody Come and Play," "I Love Trash," and "ABC-DEF-GHI").

Video:




Episode Five (February 9, 2017 1:45 pm ET)

A promo for the Sesame Street Community Center begins the video, and Matt's snowed in so he interacts with the cast through Skype. Stephanie D'Abruzzo reveals a signing of I Am Jim Henson by illustrator Chris Eliopoulos at the Museum of the Moving Image, with an interview by Craig Shemin. Matt asks Ryan Dillon about his pop culture obsessions. It's SWAG day, so the cast shows off various gifts they received from working on the show, including a painting that Ryan got from the set of The Furchester Hotel. Matt asks prop master Steve Dannenberg how he got to the street, after a man told him about a show with "hand Muppets and puppets," where he's worked since 1972. The Muppeteers answer more fan questions, which includes Peter Linz confirming he's the new permanent performer for Herry Monster. A recording of The Sesame Street Muppet Lounge Band closes out the show, as the Muppeteers play air instruments.

Video:

Extra: Can You Guess... (February 16, 2017)

Stephanie D'Abruzzo plays a musical guessing game using close-ups of iconic Sesame Street locations.

Video:

Extra: Martin P. Robinson Tells Us... (February 23, 2017)

Martin P. Robinson describes his audition for Mr. Snuffleupagus.

Video:

Episode Six (March 2, 2017 1:45 pm ET)

It's the "season finale" of Below the Frame, and the video starts with a promo for the Sesame Street Bike Shop. Everyone's asleep including Carmen Osbahr, making her Below the Frame debut. This week there's no set schedule, so the Muppeteers mostly answer Facebook live questions, including "What's the strangest puppet job you've ever had to take." Stephanie D'Abruzzo closes out the show solo.

Video:
Season Two
Image
Description

Episode Seven (October 19, 2017, 1:40 pm ET)

Matt and Stephanie kick off the second season with a new opening sequence and format, where the Muppet performers make a more formal panel. Everyone discusses their first day working on Sesame Street. The episode ends with John Kennedy and the Muppet Lounge Band performing "Lowercase n."

Video:

Episode Eight (October 26, 2017, 1:40 pm ET)

Technical problems persist as the Muppet performers answer viewer questions about characters. Amidst the technical problems, Peter Linz creates his own Facebook Live show - Below Below the Frame. Carmen Osbahr leads the Muppet Lounge Band in a performance of "I Love My Elbows."

Video:

Episode Nine (November 2, 2017, 1:40 pm ET)

The Muppet performers continue their Q&A on their characters. The Muppet Lounge Band sings "Ladybugs' Picnic," inspired by a meeting between prop coordinator Keith Olsen and Jim Kweskin, the original vocalist of the song.

Video:

Episode Ten (November 16, 2017, 1:40 pm ET)

This week is all about Sesame Street music. "Resident Geek" Joe Hennes shares some factoids about songs and the show's prolific composers. Everyone shares stories of their favorite songs and guest stars, including an on-set mishap on Muppets Tonight recounted by Paul Rudolph. The Muppet Lounge Band closes the show with a performance of "Jellyman Kelly."

Video:

Episode Eleven (December 7, 2017, 1:40 pm ET)

The members of the Muppet Cast Lounge answer questions about specials and live performances. "Resident Genius" Joe Hennes lists all the Sesame Street-related Christmas specials. Stephanie D'Abruzzo, celebrating her birthday, leads the Muppet Lounge Band in singing "True Blue Miracle" from Christmas Eve on Sesame Street.

Video:




Episode Twelve (December 14, 2017, 1:40 pm ET)

In the season finale, Matt's kids sit in on the show as the cast and crew answer a series of potpourri questions. Sound engineer Chris Sassano brings in archival sound equipment to showcase some of the show's past music stings, buttons and cues, punctuating questions throughout the episode. The season ends as Tyler Bunch and the Muppet Lounge Band sing a country-style version of "Keep Christmas with You (All Through the Year)."

Video:

Extra: Secret Surprise After Below the Frame!! (December 14, 2017)

Matt and Stephanie, not needed on set, answer more questions from the fans.

Video:
Season Three
Image
Description







Episode Thirteen (October 26, 2018, 1:30pm EST)

In the season three premiere, the cast and crew recap Caroll Spinney's last day on set, followed by the retirement celebration thrown at the Museum of the Moving Image. Joe Hennes shows off an archival treasure - the scroll from Big Bird in China. Debra Spinney calls into the show to talk about the retirement events. The episode ends as the Muppet Lounge Band leads everyone in a variation of Neil Diamond's "Sweet Caroline" in tribute to Caroll.

Due to Matt Vogel's hectic schedule during the taping of season 50, this was the only episode produced for this particular season.[1]

Video:
Podcast
Season One
Season Two
See also
Sources
External links