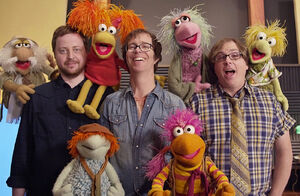 Ben Folds Five is an alternative rock trio which formed in 1993 in Chapel Hill, North Carolina. The group is comprised of Ben Folds (keyboards, lead vocalist and songwriter), Robert Sledge (bass), and Darren Jessee (drums).
The band went their separate ways in 2000, but regrouped twelve years later to record a new album, The Sound of the Life of the Mind. A music video of the single "Do It Anyway" features the six main Fraggles (Gobo, Mokey, Red, Wembley, Boober and Uncle Traveling Matt).
External links
Community content is available under
CC-BY-SA
unless otherwise noted.