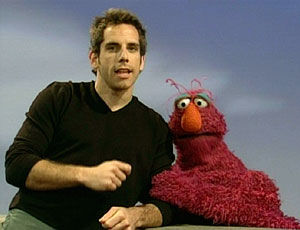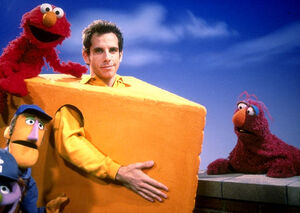 Ben Stiller (b. 1965) is an Emmy Award-winning American comic actor known for his roles in the Meet the Parents and Night at the Museum films.
He appeared on Sesame Street in Season 30, singing "The People in Your Neighborhood" with Telly Monster (First: Episode 3812). This segment includes references to a handful of films Stiller was in, including There's Something About Mary (the post woman looks for a woman named Mary, with particular emphasis on the name) and The Cable Guy (the cable guy announces himself in the same way the character did in the film), which Stiller directed in addition to playing a small role. Stiller also appeared in a special celebrity version of "Sing" which debuted in season 31.
Stiller provided the voice of the Muppet character Stiller the Elf in the 2007 special Elmo's Christmas Countdown.
His parents, Jerry Stiller and Anne Meara, have appeared in the Israeli co-production, Shalom Sesame.
An early draft of 2011's The Muppets (then titled The Greatest Muppet Movie of All Time!!!) included a cameo for Stiller.
A writer and featured player for five episodes of Saturday Night Live, other television work includes guest appearances on Arrested Development, Friends, Curb Your Enthusiasm, NewsRadio, Frasier, and Miami Vice, as well as lending his voice to Family Guy, King of the Hill, and The Simpsons.
External links