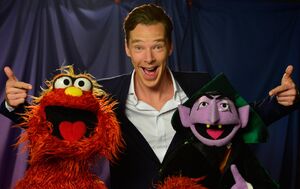 Benedict Cumberbatch (born 1976) is an English film, television, theatre and voice actor.
He is known for his roles as Stephen Hawking in Hawking (2004), Paul Marshall in Atonement (2007), Victor Frankenstein and his creature in Danny Boyle's stage adaptation of Frankenstein (2011), Major Jamie Stewart in Steven Spielberg's War Horse (2011), Peter Guillam in Tinker Tailor Soldier Spy (2011), Christopher Tietjens in the miniseries Parade's End (2013), Khan Noonien Singh in Star Trek Into Darkness (2013), William Ford in 12 Years a Slave (2013), Julian Assange in The Fifth Estate (2013) and Smaug the dragon through vocal performance and motion capture in Peter Jackson's The Hobbit trilogy. Since 2010, he portrays Sherlock Holmes in the television series Sherlock, and since 2016, the Marvel Comics character Doctor Strange in the Marvel Cinematic Universe.
He has earned an Olivier Award, four BAFTA nominations, two Emmy Award nominations, two SAG Award nominations and a Golden Globe nomination, among several others. In November 2013, he was honoured by BAFTA Los Angeles with a Britannia Awards for British Artist of the Year for his "masterful performances in television, film and theatre."
He appeared in a PBS YouTube video with Count von Count and Murray Monster published online on February 4, 2014. (YouTube) A teaser image was published to multiple PBS social media accounts on January 31, 2014.[1]
Cumberbatch has displayed a fondness for the Muppets on occasion. He has been seen wearing a t-shirt of Sherlock Hemlock, in reference to one of his most famous roles. During a Q&A on Reddit, he was asked which Muppet he'd like to make an appearance with on Sesame Street. He answered Animal before being corrected that Animal is not a Sesame Street Muppet, then answered Oscar the Grouch.[2]  
Sources
Community content is available under
CC-BY-SA
unless otherwise noted.