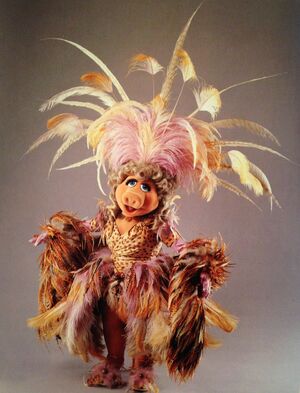 Benjamina Gunn was portrayed in Muppet Treasure Island by Miss Piggy.
When we first meet Benjamina, she has been living on an island with tribal pigs as their queen. She was marooned there by Captain Flint years ago along with his treasure, which she enjoyed caring for. Events take a turn for Benjamina upon the arrival of a ship captained by an old fling, Abraham Smollett. While on the island, Benjamina adopted a pet anteater, Flaubert.
Benjamina is especially attracted to sailors, as we learn that in addition to Smollett and Captain Flint, she also took up with Long John Silver.
In the Muppet adaptation of the Treasure Island story, Benjamina Gunn is an altered version of Robert Louis Stevenson's original character, Ben Gunn.
Since 2015, the Benjamina Gunn puppet is on display at the Center for Puppetry Arts as part of their permanent Worlds of Puppetry exhibit, donning her "island costume."