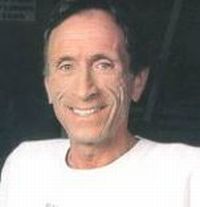 Benoit Marleau (also punctuated Benoît Marleau; 1937-2009) was a Quebecois Canadian actor who dubbed Big Bird, Grover, and Ernie (Ernest) on Bonjour Sesame, the Quebecois-language Open Sesame dub aired in Canada. He reprised Ernie on the 1976 album Sésame and years later dubbed Balthazar on La vie secrète des jouets (The Secret Life of Toys).
Marleau's acting career began in the late 1950s, appearing on the Radio-Canada soap opera La pension Velder. He was a regular on several other French-language TV series including the sitcom Chez Denise (1979-1982, as barman Jean-Paul) and the 90s dramas Le misère des riches, plus appearances on Montréal ville ouverte.
Active in dubbing since the sixties, he lent his voice to several Hanna-Barbera characters (QuickDraw McGraw, Dino on The Flintstones, Goober on Goober and the Ghost Chasers), as well as Cecil on Beany and Cecil. He dubbed the German puppet character Käpt'n Blaubä and was heard on The Simpsons (Moe), King of the Hill (Bill Dauterive), ReBoot (Megabyte), and several anime series. Marleau also dubbed live actors Tony Randall on The Odd Couple, Paul Newman in Slapshot, Jonathan Pryce in the Pirates of the Caribbean movies, James Cromwell in The Babe, and Ian McDiarmid in the first two Star Wars prequels.
External links
Community content is available under
CC-BY-SA
unless otherwise noted.