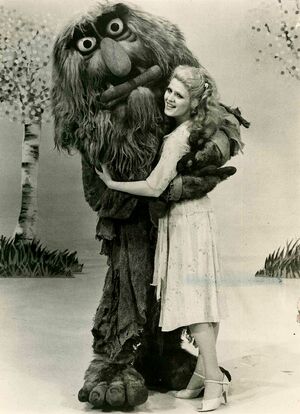 Bernadette Peters (b. 1948) is an award winning actress and singer of stage and screen.
Peters has worked with the Muppets twice, guest starring on Episode 212 of The Muppet Show, and as a guest star when Kermit hosted The Tonight Show in 1979; Animal overtakes part of the interview. In a Broadway.com "Ask a Star" video, she responded to a user-submitted question by admitting that the hardest thing about working with the Muppets was refraining from kissing them so as not to leave lipstick on them, saying "You try being near a Muppet and not kiss it!" (Kermit was extremely cautious about allowing Peters to kiss him on The Tonight Show.)
She is one of only two celebrities to actually sing one of their songs ("Just One Person") from The Muppet Show on a Muppet Show album. The other was Peter Sellers ("A Gypsy's Violin"), with both songs appearing on "The Muppet Show 2" album. (In all other cases, a new version was recorded without the guest star, such as "We Got Us").
She has won two Tony awards as Best Actress (Musical): in 1986 for Song and Dance and in 1999 for a revival of Annie Get Your Gun. In the late '90s, she and Mary Tyler Moore co-created "Broadway Barks," a charity organization for the adoption of shelter animals.
Other film credits include Rogers & Hammerstein's Cinderella, The Jerk and Pennies From Heaven (both with Steve Martin), Annie, Heartbeeps (with Andy Kaufman), and Mel Brooks' Slient Movie.
Peters' animation credits include voicing Rita on Animaniacs, as well as Disney's Beauty and the Beast: The Enchanted Christmas. Television credits include Law & Order: Special Victims Unit, Shelley Duvall's Fairie Tale Theatre, The Carol Burnett Show, and hosting Saturday Night Live.
Among Peters' extensive theatrical credits are "On the Town", Stephen Sondeim's Into the Woods and Sunday in the Park with George, and The Goodbye Girl (with Martin Short).
During her appearance on The Tonight Show with the Muppets, she spoke about how she and Vincent Price often meet each other in the supermarket, and that she'd had a Muppets-themed birthday party with an orangutan.
External links