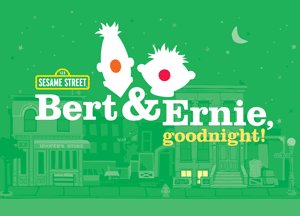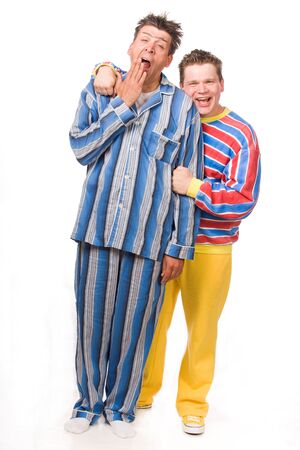 Bert & Ernie, Goodnight! is a musical adaptation of Sesame Street developed in 2009 by the Children's Theatre Company in Minneapolis, Minnesota.
CTC's A Year With Frog and Toad gained the attention of Sesame Workshop, who contacted the theatre company about a collaboration for Sesame Street. Peter Brosius, artistic director of the CTC, said, "We hired a writer, did a private workshop last summer that the folks from New York flew out to see and fell in love with. We are thrilled about it, obviously, but we're taking it one step at a time."[1]
Sesame Workshop approved a treatment for the production by Barry Kornhauser in which Bert and Ernie are "embodied by two humans, well-known Twin Cities performers Bradley Greenwald and Reed Sigmund."[1]
The show ran from September 8 to October 25, 2009.
Musical numbers for the show include the classic Sesame Street songs "One and One Make Two", I Don't Want to Live on the Moon", "Imagination", "That's What Friends Are For", "Doin' the Pigeon", "Dance Myself to Sleep", "But I Like You", as well as two new pieces composed for the show - "How Can I Sleep?" and "Bert's Lullaby."[2]
Puppet pigeons and tap-dancing sheep appear, puppeteered by teens; Kevin Clash trained them. The puppets themselves (along with scenery and costumes) were developed by G.W. "Skip" Mercier, whose credits include the Walt Disney World musical adaptation of Finding Nemo (with music by Avenue Q's Jeff Marx). Eric J. Van Wyk provided further consultation of the puppetry.[3]
Generic Bert and Ernie merchandise was available, as well as show-specific kid-size T-shirts and miniature soccer balls.
Gallery
Sources
↑ 1.0 1.1 Preston, Rowan. "CTC's season takes a walk on Sesame Street, Minneapolis-St. Paul Star-Tribune. February 19, 2009.
↑ "Bert and Ernie Come Alive on Stage", Animation World Network. April 14, 2009.
↑ "Big name talent brings cherished children's characters, Bert & Ernie, to life on the CTC stage", the Examiner. August 20, 2009.
External links
Reviews