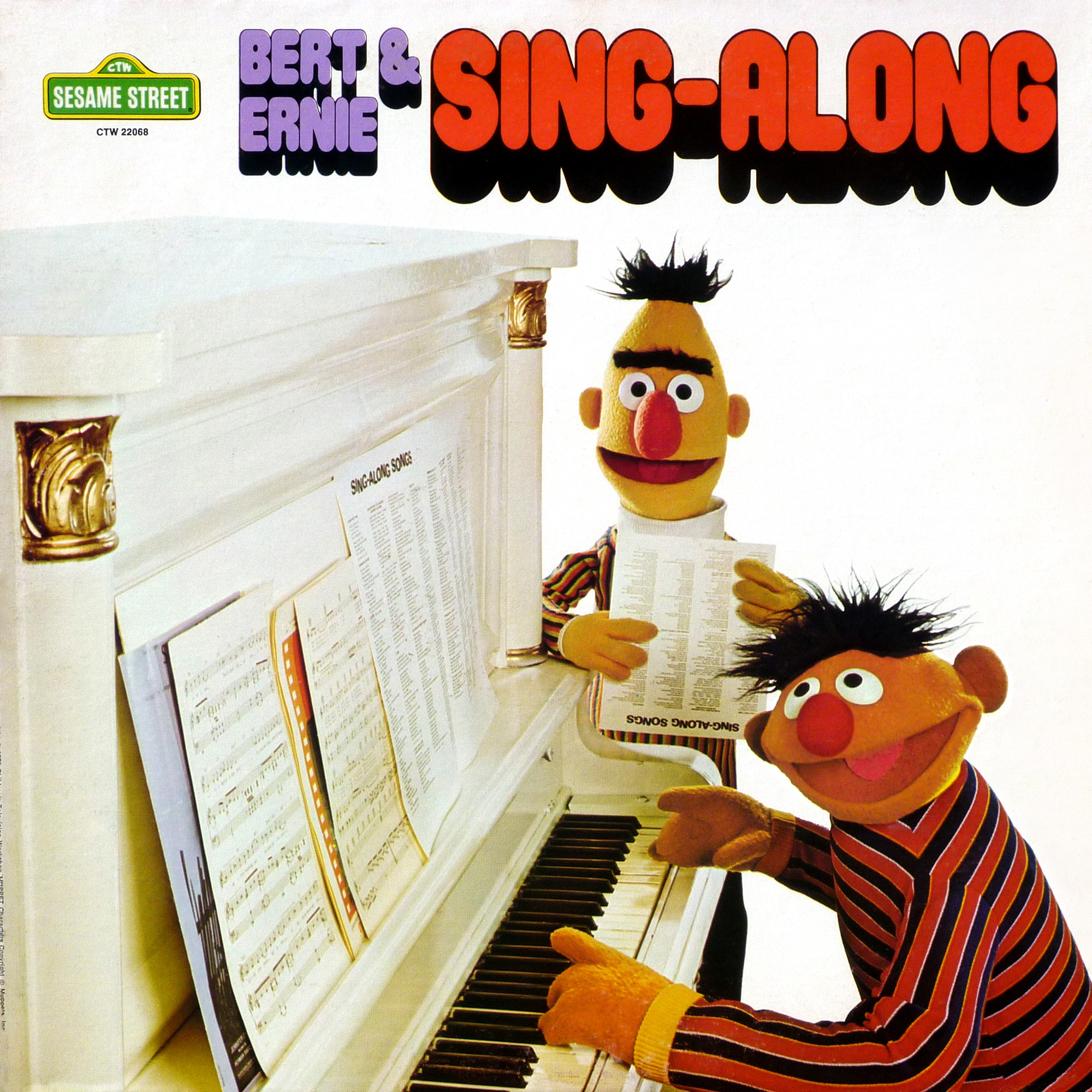 Bert & Ernie Sing-Along is one of the few Sesame Street albums to tell a complete story throughout its songs. It is also unique because all of the tracks were recorded exclusively for this album, and not reused from the show or other records.
Bert is in the bathroom, trying to enjoy a nice, quiet bath. Unfortunately for him, Ernie decides that, "because everyone sounds better singing in the bathroom," he should push the piano into the bathroom and hold a sing-along. As if that weren't enough, Ernie invites the entire cast to come in and sing with him!
This album was nominated for a Grammy Award for Best Recording for Children, but lost to The Little Prince. It has never been released on CD. However, portions from it are sampled in the "Sesame Street Theme Remix" by Ursula 1000, which is included on "Songs from the Street" CD set.
Seven years later, on the album Sesame Street Sing-Along!, Ernie and Bert hosted another sing-along, this time on a bus trip to the farm of Bert's Uncle Louie.
Track listing
Side One
Side Two
What's the Name of That Song? - Luis, Bob, Susan, Gordon, Maria, Ernie, David, Bert and Big Bird
(Axlerod-Pottle)
A Very Simple Dance - David and the Company
(Hall-Pottle)
Morningtown Ride - Bob
Music and Lyrics by Malvina Reynolds
Everyone Likes Ice Cream - Susan, David, Prairie Dawn, Bob, Ernie and Grover
Music and Lyrics by Jeff Moss
C is for Cookie - Cookie Monster and the Company
Music and Lyrics by Joe Raposo
Peanuts - Luis, Prairie Dawn, Ernie, Big Bird, and the Company
(Traditional, arr. Pottle, Special lyrics by Jim Henson)
John Jacob Jingleheimer Smith - The Company
(Traditional, arr. Pottle)
She'll Be Coming 'Round the Mountain - Maria, Susan, Gordon, David and the Company
(Traditional, arr. Pottle)
Finale: What's the Name of That Song? (Reprise) - The Company
(Axlerod-Pottle)
Sing - Bert and the Company
Music and Lyrics by Joe Raposo
Other releases
C 5068 (Sesame Street cassette)
T 5068 (Sesame Street 8-track tape)
AXIS 6290 (Axis Records LP, Australia)
TC-AXIS 6290 (Axis Records cassette, Australia)
8016 (Summit Records LP, Australia)
8016 (Summit Records cassette, Australia)
See also