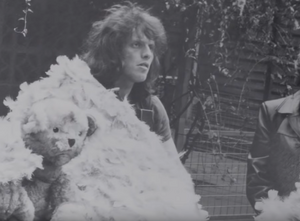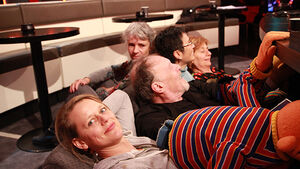 Bert Plagman is a puppeteer on Sesamstraat, the Dutch co-production of Sesame Street. He played Tommie.
Plagman's passion for puppeteering and cameras brought him to the show in 1977. Director Ton Hasebos took him on right away. Plagman thinks because of his great enthusiasm. He began his Sesamstraat career performing Pino in 1979. He started performing Tommie in 1980, sharing the part with other performers. He wasn't fond of the first Puppets, but when Aart Staartjes started his job as director and realized the Muppet version, he loved it and claimed it was the best puppet he ever puppeteered. Plagman has given Tommie his hoarse voice and invented various exclamations which are now part of the Dutch language, like "poe hee!" and "hotseflots!"
For Sesamstraat's 40th jubilee annual he also puppeteered Ernie on the television program De Wereld Draait Door. He made a cameo as Tommie and him self as well. As him self, he sang "Dood zijn duurt zo lang".
Plagman's non-Henson TV puppetry work includes Koekeloere and WaWa. He also directs beginning puppeteers and performs in the stage show Kapitein Winocchio.
External links
Interview with Bert Plagman and Hakim Traïda Bert Plagman singing "Dood zijn duurt zo lang"
Community content is available under
CC-BY-SA
unless otherwise noted.