Bertha under a magnifying glass
DEBUT
1998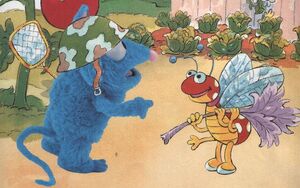 Bertha appears in the Bear in the Big Blue House episode "Buggin'" and in the 2001 storybook, Bugged by Bugs.
Tutter is having a bad bug day, which started when he was picking tomatoes from his garden. Startled by a bee, he decides to bunk down in the Big Blue House. After hearing a noise he thinks is Bear, he goes outside and makes friends with Bertha, who is eating a weed from his garden. Tutter learns that bugs do great things in nature, and together with Bertha the friends go and explore more bugs in the yard.
Bertha lives in a log at the Otter Pond. In "Buggin'," she accidentally wanders into the Big Blue House. Tutter is actually able to understand a bit of Bertha's language. She tells him her name and that she misses her home.
Community content is available under
CC-BY-SA
unless otherwise noted.