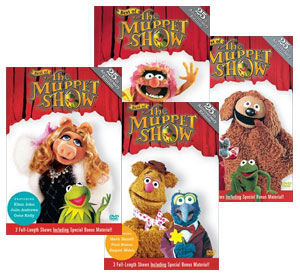 | | |
| --- | --- |
| Produced by: | Time-Life |
| Release Date: | 2001-2002 |
| Discs: | 15 (each sold separately) |
| Region: | 1 |
Best of the Muppet Show was a line of videos and DVDs available through Time-Life Video. Time-Life originally released 6 videos, and then 9 more videos were released. The first ten were soon released on DVD, and the remaining 5 videos were released on DVD in 2002.
Each video and DVD in the series (each sold separately) contained 3 select episodes from The Muppet Show. The episodes included the UK Skits; however, the season 1 opening sequence was replaced on the season 1 episodes with the syndication reworked "season 2" opening. Each episode included a brief introduction by Brian Henson, and each disc included bonus interstitials and an original concept drawing. On the main menu, there was a picture of Animal which could be highlighted, leading to a hidden feature: a fact about the show that usually related to one of the episodes included. Also, for each video, the first two episodes would close with a wide shot of the orchestra from the first season's closing sequence, followed by a shot of Zoot from the 1980s after the end credits. However, the third episode would just end with the Jim Henson Home Entertainment logo.
In honor of the 25th anniversary of The Muppet Show in 2002, Columbia began re-releasing the series in stores. At that time Time-Life had only 10 volumes available on DVD; they released the remaining 5 a short time later. Columbia initially announced that they would reissue the entire Time-Life series and add an additional 5 volumes, for a total of 20,[1] but they had only released volumes 1-5 and 7-8 before the sale of the Muppets to the Walt Disney Company in 2004 terminated their distribution contract.
Sources
↑ DVDAngle.com by Paul Russell, June 13, 2002 "Columbia/Tristar has announced they will begin releasing Best of The Muppet Show DVDs on 09/03 for $24.95 each. These will be the exact same discs currently available from Time Life Video. Future installments will be released shortly after -- there are currently 10 DVDs in the collection and 10 more are in production."