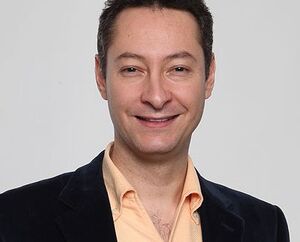 Beto Castillo (also credited as Alberto Castillo) is a Mexican singer, voice artist, and stage actor who dubbed the singing voice of Tex Richman in Los Muppets and for the extended version of "Let's Talk About Me" in the soundtrack.
For Sesame Street, Castillo is the Spanish voice of Louie in the various resource videos and Sesame Beginnings. In the latter, he also dubs Cookie Monster's Grandma.
He has worked on a variety of animation, puppet, and commercial jingle dubs and also frequently served as musical director or song translator for Disney projects. He's worked on various stage shows and promotional campaigns for Disney in Mexico and oversaw the musical adaptation of Mickey, Donald and Goofy: The Three Musketeers and Mickey's Twice Upon a Christmas, in addition to lyric and chorus work on Home on the Range and others.
Castillo was the singing voices of Wheezy in Toy Story 2 and John Smith in Pocahontas II: Journey to a New World, sang theme vocals for George of the Jungle and as one of the singing busts in Eddie Murphy's Haunted Mansion, and re-dubbed Jeffrey Tambor as the Big-Nosed Thug in Tangled.In puppetry, he dubbed Snook in It's a Big Big World.
External links