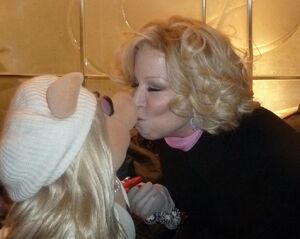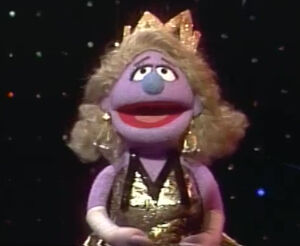 Bette Midler (b. 1945) is a singer, comedian and actress known for the films Ruthless People, Down and Out in Beverly Hills, Beaches, and her biggest hit, The First Wives Club.
In 1980, Midler recorded "Blueberry Pie" for the album In Harmony: A Sesame Street Record. She also appeared as "Mother Earth" on The Earth Day Special, an ABC special which featured a sketch with Kermit and Robin the Frog.
She appeared in "Yakety Yak - Take It Back", a 1991 recycling PSA that eventually aired on Sesame Street.
While guesting on Christmas in Rockefeller Center with Billy Crystal in 2012, she met with the Muppets backstage for a photo-op and exchanged kisses with another diva.
Midler voiced Kitty Galore in Cats & Dogs: The Revenge of Kitty Galore, the non-Creature Shop sequel to Cats & Dogs. She also provided the voice of Woody the Spoon on the PBS educational series Vegetable Soup (1975-1978).
References
External links