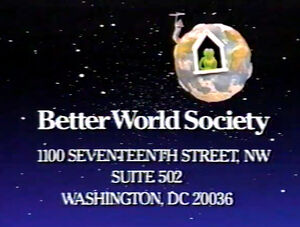 The Better World Society was an organization developed in the late 1980s by media mogul Ted Turner. The short-lived effort was launched with the intention of encouraging Hollywood to provide media with in-depth focus on environmental and social issues. Several celebrities who became involved in the effort included Jacques Cousteau, Barbra Streisand, Al Gore and Jim Henson.[1]
In 1989, Kermit the Frog served as spokesfrog for the Better World Society.[2] He appeared in two Public Service Announcements directed by Jim Henson in November of 1988, which aired the next year. In 1990, Jim Henson Productions was presented with Telly Awards for both PSAs.[2] The same year, a tribute was held in Henson's honor at the Fifth Annual Better World Society Awards Dinner.[3][4]
The first PSA (titled "Food" in production and later honored by the Telly Awards as "Waste Deep") features Kermit posing a question to the viewer: "What if everyone in the world lived in one house?" The camera pans from left to right through several rooms filled with Muppet monsters involved in a number of raucous activities: eating food (with the refrigerator door left open), bathing (in a full tub, with the water still running), brushing teeth (the water pressure noticeably affected by the monster bathing in the preceding room) and lastly, a bedroom full of monsters trying to find their own space in an over-crowded bed. Kermit appears at the end to repeat his question, and answers, "We do."
The second PSA (titled "Bombs" in production and honored by the Telly Awards as "The War Room") is very similar in execution, with a slightly different theme. Kermit poses the same question, but this time the camera follows Boo Monster through the same house carrying a balloon. The monsters in this version appear to be assembling a small armed force in each room, complete with munitions and other weaponry. In the last room, Boo's balloon pops on the end of a bayonet, upon which he is immediately targeted by a dozen startled and jumpy monsters. Kermit again returns to pose the same question and answer.
Sources
Community content is available under
CC-BY-SA
unless otherwise noted.