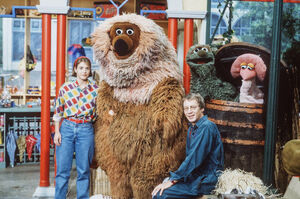 Bettina was one of the main characters on Sesamstrasse, the German version of Sesame Street, during the end of the first studio era towards the end of the second studio era.
Over the course of twelve years she was played by two actresses, Hildegard Krekel and Kirsten Sprick respectively. Beginning with Krekel and her male counterpart Gernot Endemann (who played Schorsch), this also marked the first time that the characters received different names from the actors who portrayed them.
A very creative individual, Bettina was good friends with Muppet characters Samson, Tiffy, Uli von Bödefeld, Leonie Löwenherz, Simson and later Finchen, Rumpel and Buh as well.
She opened a bistro on the street in 1989, and kept it open during her entire tenure on the show, until the street set was remodeled in 2000. During the character's later years on the show, Bettina became more of an artist than a gastronome, mostly creating commissioned work that was sometimes rivaled by Rumpel's odd creations.