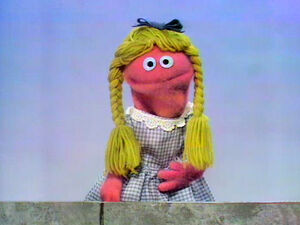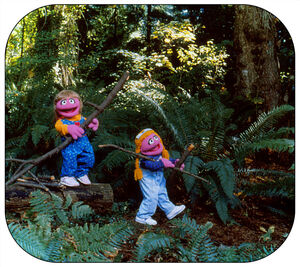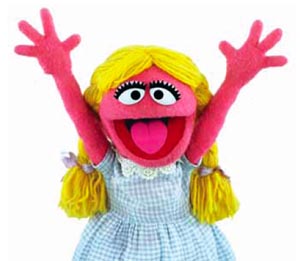 Betty Lou is a young girl from Sesame Street who has been played over the years by various performers.
She is made from the Hot Pink Little Anything Muppet, much like Prairie Dawn. Prairie and Betty Lou are sometimes difficult to separate. For example, sesamestreet.org once used an image of Prairie for both her character page and Betty Lou's.[1] (By December 2009, the site replaced the picture with one of Betty Lou.) A 1994 document from the CTW archives also indicates the difference between the girls by their hair.[2] Additionally, when Fran Brill would perform Betty Lou, she would generally use a different voice for her than the one she would use for Prairie Dawn.
During the early years (including a named, but silent role in "The Mr. and Mrs. Game"), Betty Lou was a minor character who was performed by whoever was available to perform her. She seemed to appear more in books than on the show. Apart from singing "I Want a Monster to Be My Friend" (credited on The Sesame Street Monsters! album as "Little Girl"), notable appearances included the song "Exercise" in 1983 serving as lead singer (backed by Grover and various Anythings), and singing "Amigo" with her bilingual friend Carlos in a sketch from 1984. She was also an extra in the song "Listen to the Bells."
As part of an increased attempt by Children's Television Workshop to balance the number and prominence of the male and female characters, Betty Lou appeared on a more regular basis, in street storylines and not just inserts, beginning around 1993. Lisa Buckley became her consistent performer, and Betty Lou developed an interest in collecting dolls before fading once again into the background. One episode found her "despondent over the evil spell cast on her doll's lost love, Prince Ted."[3] Another episode centered on her opening the "Betty Lou Clinic." Her 1990s renaissance was notably captured in original framing material in the 1996 video Do the Alphabet and in the song "Girl of the World."
Betty Lou lives with her mother. She has a baby sister, seen in the book Grover Learns to Read. She also has a little brother named Herbie, who appeared in at least one book, The Sesame Street Bedtime Storybook.
Betty Lou made cameo appearances, alongside Roosevelt Franklin, in a Smart Cookies episode, "Making Whoopie Pie in the Library." She gives a cute little sneeze, and gets shushed by the librarian. She also made brief cameos in Sesame Street's 50th Anniversary Celebration, where she is seen in the laundromat, and in a crowd shot among other classic Muppets during the "Sing" finale.
Casting History
Street scenes
Book appearances
Character Merchandise
Sources
↑ Betty Lou (accessed 4/17/09) "Friendly Betty Lou is always happy to lend a hand. She likes to play, and will always join her friends in a game on the playground. A doll aficionado, she has many dolls of various ethnicities and shapes. She owns many dolls and is good friends with Prairie Dawn."
↑ Hartford Courant "Plainville Girl Takes Her Own Magic To Sesame Street" by Dana Tofig, October 31, 1993