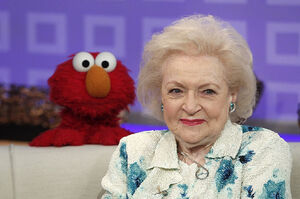 Betty White (b. 1922) is an American actress best remembered for her Emmy Award-winning roles on The Mary Tyler Moore Show and The Golden Girls. Her current projects include TV Land's Hot in Cleveland, and Betty White's Off Their Rockers on NBC.
On May 3, 2010, White appeared on Today to promote her spot as Saturday Night Live host. Elmo was also on the show that day to promote the video The Best of Elmo 2, and during one of the promotional bumpers, Elmo appeared alongside the former Golden Girl. Elmo kissed the side of White's head, and then she turned to kiss him on the lips. This led to a little more smooching, and Today host Meredith Vieira cautioned them, "Get a room, kids; get a room!" Seeing the pair possibly gearing up for another kiss, Matt Lauer cut to the news, "before this gets out of control."
Over the course of her career, White has made numerous guest appearances on shows including That '70s Show, The Love Boat, Fame, and multiple soap operas. She has also done occasional voice-over work, including herself on The Simpsons, Grammy Norma in Dr. Seuss' The Lorax, Yoshie in the American release of Ponyo from Disney and Studio Ghibli, Mrs. Claus on ABC's Prep & Landing: Operation: Secret Santa, and the recurring role of Agatha McLeish on The Hub's Pound Puppies.
External links