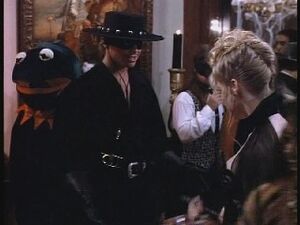 Beverly Hills, 90210 is a prime-time soap opera which ran on FOX from 1990 to 2000. The show was set in Beverly Hills, California and focused on a group of rich teenagers that originally went to West Beverly High School.
References
Muppet Mentions
In the second season episode "Halloween", a guest at the Halloween party is wearing a costume of Kermit the Frog with an orange collar. Other costumes also featured in the episode: ALF, Leonardo and Donatello.
In the second season episode "Wedding Bell Blues" Donna, Brenda, and Kelly are trying on their bridesmaid dresses, and Jackie Taylor is trying on her bridal gown. Jackie Taylor complains about having gained weight (1 dress size in 2 weeks), so that "I look like Miss Piggy." Donna tries to reassure her that she looks beautiful: "A beautiful Miss Piggy."
In the third season episode "She came in through the bathroom window", Dylan, Steve, and a woman named Ginger (who turns out to be a false identity) are trying to speak to Burt Reynolds (who has a cameo later in the episode). They end up doing a mouthwash commercial dressed as green bacteria, and Dylan says "I started the day studying for my S.A.T.'s, and now, look! I'm Kermit the Frog!"
Connections
Community content is available under
CC-BY-SA
unless otherwise noted.