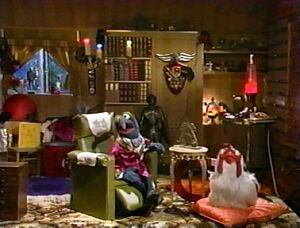 The Bide-A-Wee Trailer Court is an enclave of mobile homes and trailer-hitched residences. Gonzo resides in one such domicile, his own country villa, as seen in Gonzo Presents Muppet Weird Stuff. The decor includes a talking suit of armour (with eyes), a teetering bird, plush chairs, a small television set, and a highly prized lava lamp. Gonzo co-habitates with Camilla and allegedly employs a manservant, Jeeves, and a gardener.
The similarly named "Bide-A-Wee Motor Court" was referenced years earlier in The Muppets Go Hollywood by Kermit the Frog, who mentions that the Muppets are staying there during their excursion to Hollywood. He adds that it is located in downtown San Pedro.
Community content is available under
CC-BY-SA
unless otherwise noted.