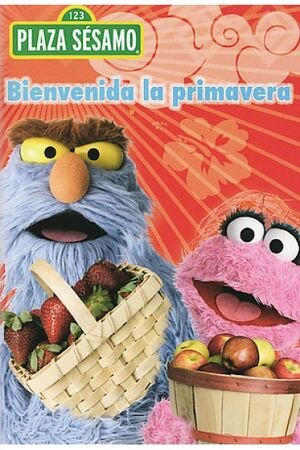 Bienvenida la primavera is a Plaza Sésamo DVD released in 2006. The video is made up of scenes from the 2006 season (Episode 914 through 916), where the entire plaza throws a festival in celebration of the arrival of spring.
Segments
Cartoon: Monsters have a "fiesta" (party)
Kingston Livingston III sings about his birthday party, but all of his friends are outside the house, while the party is inside.
Cartoon: An alien crashes on Earth and uses a "telefono" (telephone) to get help.
Monsterpiece Theater: The Monsters of Venice
Song: "Fido's Birthday"
Animation: Flower pattern - what goes in the middle?
The Twiddlebugs don't understand why they are getting all wet, while Mommy Twiddlebug isn't. They soon learn it's because she's inside the house. After they all huddle inside, Ernie finishes watering his plants.
Film: A girl and her florist mother visit a greenhouse.
Cartoon: A story/song about a duckling who wants to join the others playing at the water's edge.
Ernie sings "The Honker-Duckie-Dinger Jamboree"
Film: Ducks swim and fly (piano music)
Cartoon: Fruta Manza sings about eating healthy
Ernie "shares" a banana with Bert.
Film: Kids pay tribute to the banana.
Cartoon: An elephant, a zebra, a hedgehog, an ostrich, a frog and a ladybug create a rhythm with their footsteps.
Film: Kids make costumes for a parade.
Cartoon: A tree experiences the various weather changes during the seasons.
Cookie Monster sings "Eating Cookie" -- there's another reason every season.
Film: A girl narrates a segment about nature through winter and spring.