DEBUT
1969
Big Bird's Mommy is the mother of Big Bird on Sesame Street. Unlike Grover's Mommy, who plays a dynamic role in her son's life, Big Bird's Mommy is a shadowy figure, and seems to have left most of his upbringing to his Granny Bird and aunt Nani Bird.
Big Bird shows Bob a photo of his mother in Episode 0030, received a letter from her in Episode 0077, and a coat in the mail from her Episode 0302. Subsequently, however, all known birthday and Christmas presents come from Granny Bird or the residents of Sesame Street.
In Follow That Bird, Big Bird is treated by the Feathered Friends as an orphan, cut off from other birds. His "Feathered Friends" profile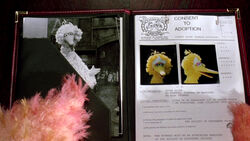 lists him as having no parents. This makes some sense if a grandmother is his closest relative, but less so if Big Bird's Mommy is still around. In fact, Big Bird fantasizes about a Bird Family, including a Mommy Bird and Daddy Bird.
In Episode 4618, Big Bird's verse during "You're the Mom for Me" shows him honoring Mother's Day by giving Nina flowers, considering her a mother figure in his life.
Verbal references