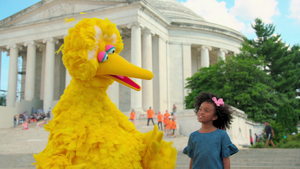 Big Bird's Road Trip is a recurring Sesame Street segment introduced in Season 50.
The segment follows the season premiere episode, where Big Bird and Nina go on a cross-country road trip to visit Cousin Little Bird in California. In the series, Big Bird interviews a child from different cities across the United States of America (as well as the occasional international locale). The interviews are presented as video chats back home to Elmo on Sesame Street. Following Big Bird's arrival in California, the segment's format changed to having pre-recorded interviews with children as Big Bird and Elmo watch them back on Sesame Street.
The first nine segments were produced during the "Sesame Street Road Trip" tour during summer 2019.[1] For the segments taking place in Mexico, India, and Singapore, part of the theme song, "Here We Go", was muted and Big Bird's outro was redubbed to say "Me too, from all across the world."
The premise was adapted into a picture book, Big Bird's Road Trip (2019).
Segments
See also
Sources