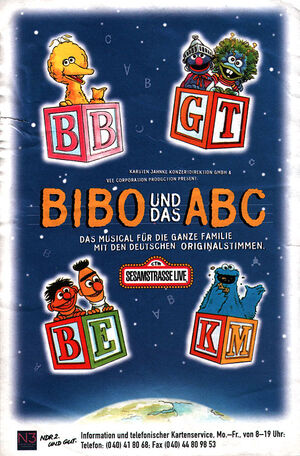 Big Bird and the ABCs is a Sesame Street Live show first produced by VEE Corporation for the 1987-1988 tour. It was also repeated over the next four years.
In the show, the Sesame Street gang attempts to teach the alphabet to their new friend, an alien named Tee Hee from the planet Crayon, and who speaks the language Crayon.
The show runs roughly 100 minutes.
Characters
Big Bird, Tee-Hee, Grover, Bert, Ernie, Cookie Monster, The Count, Prairie Dawn, Oscar the Grouch, Guy Smiley, Telly Monster, Snuffleupagus, Gina and Tina (Twin Teenagers), Postman, Painter, Doctor, Handyman, Farmer
Note
Songs
Act I
Act II
Production Credits