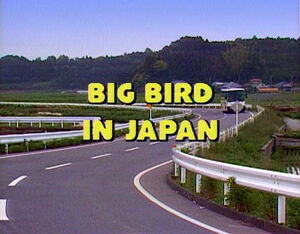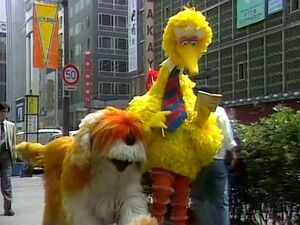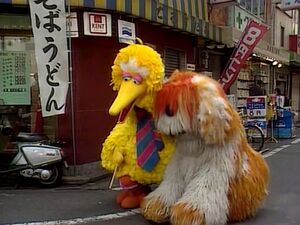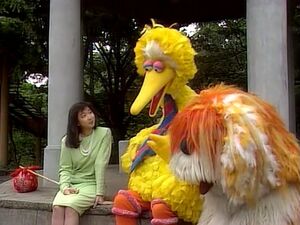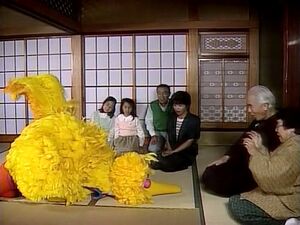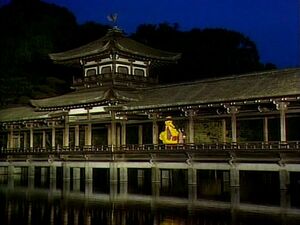 Big Bird in Japan is a follow-up special to Big Bird in China. Produced in association with NHK, Japan's public broadcaster, and filmed on location in Tokyo and Kyoto, the special debuted in Japan on NHK in the late fall of 1988, and on PBS on January 16, 1989.
Big Bird and Barkley, having previously seen China independently, have signed up for a bus tour of Japan. The officious, hyper-organized guide has the trip organized to the detail, with little intended contact with the Japanese people. Wandering off, the pair are soon abandoned, but find aid from a friendly young woman, whose identity is eventually revealed through Japanese theater. The production included four original songs: "Homesick" and "Going to Kyoto" by Tony Geiss, and "Ichi, Ni, San" and "Moon, Moon" by Carol Hall.
The special was released on VHS in 1991, and on DVD in 2004.
Notes
Big Bird would return to Japan on TV sixteen years later to join the cast of the country's first local co-production.
Reviews
"What we get is a kind of gentle travelogue, although this is not a very enthusiastic endorsement for guided tours... Wandering off on their own, the Muppets eventually conclude that they "saw more and learned more than if we never got lost at all."

...It is all very gentle. Big Bird's dizzy innocence may be getting a bit less ingratiating as the years roll by, but the gawky creature is thoroughly convincing when it declares: I'm homesick for Japan and I haven't even left. One interesting detail: As Big Bird and Barkley waddle and scamper through public streets, the passers-by seem remarkably unfazed. There is a reluctance to stare. The boundaries of Japanese politeness seem wonderfully wide."
—John J. O'Connor, The New York Times. January 16, 1989.
Cast
and
Masayuki Kato as Restaurant Manager
Akira Murayama as Mr. Shimizu
Kumiko Hironaka

Hikojiro Matsumura

as Grandfather

Fukami Harue

as Grandmother
Mariko Hirano as Mariko Shimizu
Akiko Nemoto as Akiko Shimizu
Yoko Haruta as Tour Guide
Pat Morita as "Bamboo Princess" Play Narrator (voice)
Crew
Gallery
Video releases
External links