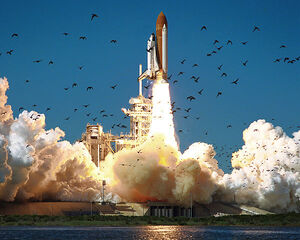 In the mid-1980s, NASA approached Children's Television Workshop in the interest of getting "the children of America to be more interested in [the space program]".[1] Caroll Spinney was meant to go into space on board the Space Shuttle Challenger scheduled for launch in 1986. Sequences were to be filmed with Big Bird, but the task of sending the puppet suit proved too complicated, and the educator slot was filled by Christa McAuliffe.
Spinney wrote about the events in his 2003 memoir, The Wisdom of Big Bird, but the material was cut by the publishers on the grounds that the story was too depressing; Challenger exploded just moments after lift-off.[2]
Material from Spinney's experience with NASA appeared in I Am Big Bird: The Caroll Spinney Story.[3]
Sources
↑ "Spinney cycle" by Jerry Rice. Mar. 16, 2006. Variety
↑ BAM! Event Report by Danny Horn. November 2004. Tough Pigs
↑ iambigbird.com Official Website. Copper Pot Pictures
Community content is available under
CC-BY-SA
unless otherwise noted.