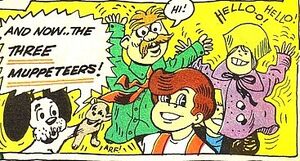 Big Boy is the mascot of Big Boy's restaurants and star of the comic book Adventures of Big Boy. Founded in 1938 as Bob's Big Boy, the company has more than 455 franchises in the United States of America, Canada, and Japan. Big Boy himself, who shares his name with the restaurant's double-decker hamburger, is an oversized child with a semi-permanent grin, destined to cheerfully purvey cholesterol-heavy beef sandwiches. He was inspired by a six-year old child named Richard Woodruff, and the original character design was created by animator Ben Washam, an early partner who would later contribute to Chuck Jones' classic Bugs Bunny cartoons. Many of the original restaurants featured a statue of Big Boy, as stolid and unchanging as pre-sliced restaurant pickles.
Within the realms of his comic book, however, presented as give-aways, Big Boy had a complex inner life. He fought mad bombers, cavorted with his girlfriend Dolly and dog Nugget, visited the space shuttle and in one issue, according to Mark Evanier, when "confronted with some formidable problem, went out on a balcony, looked up at the heavens and prayed to God for guidance." He also visited an astonishingly diverse array of celebrities, from the stars of TV's B.J. and the Bear to Jim Henson himself.
In issue #265, Big Boy and his friends, Dolly and Nugget, visit Sesame Street to pick up Big Bird for their London trip. In London, they take a tour of the Muppet Show production, and meet Kermit. Jim Henson explains how the Muppets are performed, and shows them how he puppeteered the banjo scene in The Muppet Movie. At the end of the trip, the three friends practice Muppeteering with some Whatnot puppets. Big Boy is not very skilled at keeping his head out of the shot.
Notes
Artist Manny Stallman illustrated the issue, as he did every issue of The Adventures of Big Boy, for 17 years. Prior to his ad agency work on this, Stallman had worked on comics for DC Comics, Timely Comics (which later became Marvel), and Harvey, among others, including such series as T.H.U.N.D.E.R. Agents.
External Links
Community content is available under
CC-BY-SA
unless otherwise noted.