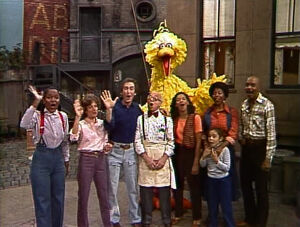 "Big Hello 1-20" is a Sesame Street song from a season 12 episode performed by the whole cast.
Big Bird walks onto the empty street, upset that no one besides him is around to give the viewer a "hello." As he sings about being the only one, the rest of his friends (including Maria, Luis, Gordon, Susan, Bob, Linda, Olivia, Mr. Hooper, Willy, Mr. Macintosh, Deena, Poco Loco, Barkley and the kids) show up one by one, resulting in a large hello from 20 people.
Oscar sings a Grouchy reprise of the song at the end of the episode, subtracting the annoying people from his trash can area.
Releases
Video