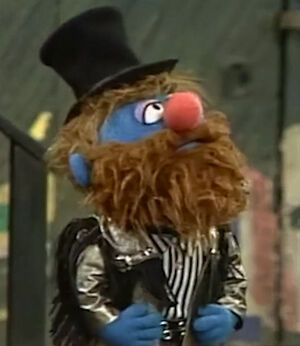 Big Jeffie is a member of Little Jerry and the Monotones on Sesame Street, singing bass vocals for the group. He was named after Jeff Moss, who usually provided his voice and wrote many of the group's songs. In Little Jerry's introduction to the song "Four" (the earliest mention of Big Jeffie's name), he's defined as the last "and least" important singer in the band.
Big Jeffie has also appeared as a member of Little Chrissy and the Alphabeats, in place of the Lavender Alphabeat (also voiced at times by Moss). He featured in "Startin' Kindergarten," "I Go to School," and "Gonna Rock You to Sleep." He and Little Chrissy appeared together in several episodes during seasons 21 through 23, being joined by Elmo on two occasions.
Beginning in the late 1980s, Big Jeffie began donning a leather jacket. During his gigs with Little Chrissy, it was replaced with a red Alphabeat shirt. In Episode 3898 (2000), during Little Jerry and the Monotones' comeback performance, it is revealed that he plays piano.
Evolution and performer history
A precursor to Big Jeffie—a bearded Fat Blue Anything Muppet hippie wearing a triangle patterned shirt and bone necklace (sometimes worn by another Muppet hippie)—appeared on Sesame Street as early as the season one song "Seven Days" (performed here by Frank Oz). The puppet continued to be used in several inserts the following season before being established as the bass vocalist of Little Jerry and the Monotones with "Mad."
In "Mountain of Love", the Pumpkin Monotone is used for Big Jeffie (referred to as such, and voiced by Jeff Moss) rather than the usual Fat Blue puppet.
On occasion, a Muppet performer has voiced the character instead of Moss. Jerry Nelson performed the puppet (unnamed) in a series of R quickies in Episode 0195, and as the lead singer of "The Garden" (season 2 remake), along with providing vocals for the puppet in "The Word," and two non-musical segments where a group of hippies spell out the word "RUN," and another sketch where the Monotones assist Grover in demonstrating the word "walk." Frank Oz performed the puppet again in the season 2 remake of "Before and After." Jim Henson performed the puppet in another sketch demonstrating scatting.
Jerry Nelson can also be heard singing Big Jeffie's bass vocals in the songs "Danger" and "Telephone Rock," recorded in season 6 after Moss's temporary departure from the show. Kevin Clash performed Big Jeffie in Episode 2452, in which Little Jerry and the Monotones visit Sesame Street.
Appearances
Book appearances
See also