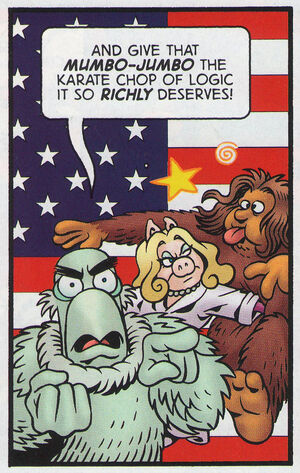 Bigfoot, or Sasquatch, is a large, hairy, ape-like creature thought by some to inhabit the Pacific Northwest of North America. Most mainstream scientists, however, consider belief in Bigfoot to be a product of folklore, misidentification, and hoaxes, rather than authentic sightings.
In The Muppet Show Comic Book: Meet the Muppets, issue 4, Sam the Eagle rails against gullibility, using belief in Sasquatch as an example. Behind Sam, a Sasquatch happens by and becomes offended. Unaware of the creature's presence, Sam continues his tirade even as the Sasquatch reaches menacingly for Sam's head. Miss Piggy suddenly appears and defeats the Sasquatch in hand-to-hand combat. Sam finishes his editorial, unaware of having been in any danger.
See also
Community content is available under
CC-BY-SA
unless otherwise noted.