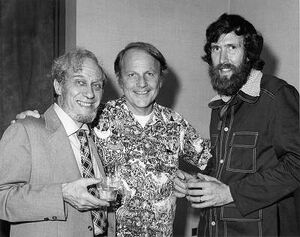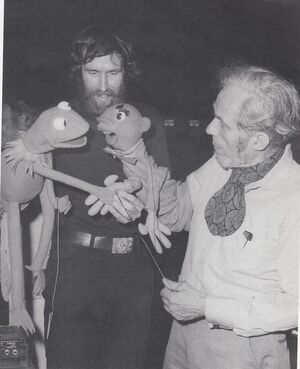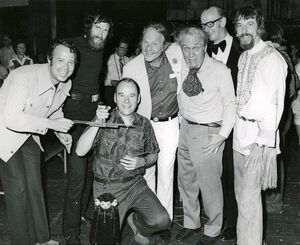 Bil Baird (1904-1987) was a puppeteer best known for his "Baird Marionettes", who appeared on Broadway (including his production of Man in the Moon at the Biltmore Theatre), television (in series such as The Whistling Wizard, spotlighting Charlemane the lion) and in films like The Sound of Music. For the latter, Baird and wife Cora designed, performed, and choreographed the "Lonely Goatherd" sequence.
Jerry Nelson, Faz Fazakas, and Olga Felgemacher all worked with Baird early on, and Baird collaborated with Jim Henson on a number of other occasions, such as on Here Come the Puppets. Baird's son Peter Baird performed, uncredited, in The Muppets Take Manhattan.
The Value of Imagination, a juvenile biography of Jim Henson, claimed that as a child, Henson watched Baird's TV series Life with Snarky Parker and claims that it was an influence on his decision to go into puppetry. This is demonstrably false, as evidence by a 1982 Cinefantastique interview with Judy Harris. Harris asked if Snarky Parky was an influence. Henson responds, "I don't think I ever saw that show." Harris goes on to ask "if Snarky Parker had rubbed off on you and that's where you got your initial inspiration for your first puppets?" Henson elaborates:
"

I don't think so, no, because what I really knew of Bil and Cora Baird's work was their variety show stuff. Immediately before I first did any puppets, they were doing a CBS morning show, in opposition to The Today Show. They were just doing novelty records and little tiny short bits and pieces.

"
In his own 1965 history of puppetry, Baird assessed Jim Henson's work at that time:
"

Jim Henson, a regular on television, has created a troupe of strange characters, The Muppets. They lend their unearthly faces in a contrast to earthly voices on records. The contrast is humor. Henson has peopled his television with creatures never seen before from his own imagination. And this weird population is a very happy contrast to just people. The airways are so full of the latter.[1]

"
A short biography of Baird appears in Cheryl Henson's 1994 book The Muppets Make Puppets!.
References
Sources
↑ Baird, Bil. The Art of the Puppet. New York: Macmillan, 1965. p. 239.
External links
Community content is available under
CC-BY-SA
unless otherwise noted.