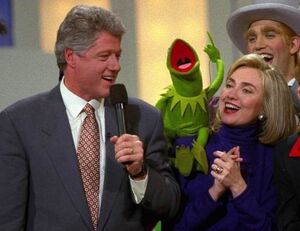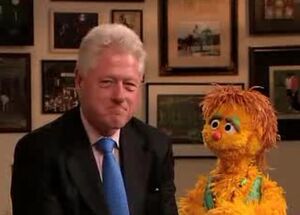 Bill Clinton (b. 1946) was the 42nd President of the United States of America, from 1993 to 2001. Clinton is married to former U.S. Secretary of State Hillary Clinton, father of Clinton Foundation vice chair Chelsea Clinton, and was the former owner of First Cat, Socks.
On January 19th, 1993, as part of Clinton's first Presidental Inauguration festivities, the Disney Channel put together an "Inaugural Celebration for Children" concert at the Kennedy Center in Washington, D.C. The concert was hosted by Markie Post, and included performances by Mr. Rogers, the Adventures in Wonderland cast, and the Muppets.
Kermit, Gonzo, and Rizzo appeared in four sketches during the hour-long concert. In the sketches, Kermit introduced Gonzo and Rizzo's "Presidential Information Moments," pre-taped segments of the pair trying to educate children about the Presidents. In one segment, Gonzo reported that Theodore Roosevelt was over 150 feet tall. ("The earth shook with his mighty footsteps! He had to comb his hair with an entire pine tree!") In another, he and Rizzo spent the entire segment complaining about their accommodations.
At the end of the concert, kids' musician Raffi played "This Little Light of Mine", inviting all of the performers to join Bill and Hillary Clinton onstage. Steve Whitmire and Dave Goelz came on with Kermit and Gonzo, and Whitmire crouched down behind the Clintons, perching Kermit up on Hillary's shoulder as they sang. The camera held for a minute or so on this scene, and an AP photo of Kermit on Hillary's shoulder appeared on front pages around the nation.
During the 1996 presidential race, Clinton campaigners distributed buttons that featured the Sesame Street Muppets and a caricature of Clinton. The buttons told people how a vote for Clinton/Gore was a vote to save public television and the Muppets' job.
On December 01, 2006, Bill Clinton was featured in a UNICEF public service announcement about HIV and AIDS along side Kami, an HIV-positive character from Takalani Sesame. (YouTube)
In 2012, Clinton was honored at the 10th Annual Sesame Workshop Benefit Gala for his work with UnitedHealthcare on behalf of children's health and education around the world.
References
External links